A Little Bit Too "Sicko"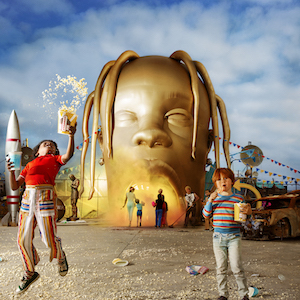 "You know my fans really mean the world to me and I just always want to leave them with a positive experience" rapper Travis Scott said in an apology video that many interpreted as disingenuous.
The rapper certainly left fans with an experience, however, describing it as a positive one is a bit too overzealous. This year's Astroworld festival was highly anticipated with a lineup of artists such as Lil Baby, Sza, Young Thug, 21 Savage, Bad Bunny, and Roddy Rich. Fans rushed to buy all 100,000 tickets causing the event to sell out within a matter of minutes. As if 100,000 concert goers bunched together crowd surfing wasn't already a COVID Petri dish, it is reported that about 5,000 additional people entered the venue with un-scanned tickets.
Travis Scott has since deleted a tweet in which he encouraged fans to sneak in even after the festival sold out saying "Naw we still sneaking the wild one's in." It's pretty safe to say this tweet didn't age well. Despite the Houston Police department reporting "dangerous crowd conditions" as early as 5pm, the concert continued to go on well into the night. As the night progressed so did the crowd's barbaric nature.
Natalie Hollis, a twenty seven year old Louisiana resident remarks in a recent interview that, "I thought I was going to die. I was separated from my friends and gasping for air just trying to make it out of the crowd. When I escaped all I could see was hell."  As unfortunate as Natalie's story is, she is lucky enough to be able to tell it. The death toll from the concert has reached 10, claiming the life of a 9 year old boy named Ezra, who was placed in a medically induced coma after sustaining life threatening injuries from that night. 
The rapper's laxed attitude and how he continued to perform as the mass casualty unfolded has led many to believe that the concert was some type of satanic ritual. Though there is no evidence that clearly supports this theory, people definitely have their suspicions. The slogan festival was "see you on the other side" which has caused many to wonder what exactly Scott meant by this. Could it just have been an uncanny coincidence or was he foreshadowing death?  Nike has decided to postpone their sneaker collaboration with Scott, which was initially supposed to drop December 18th. Between conspiracy theories and 100 lawsuits and counting stacked against Scott, a collab probably would not have been the best decision on the company's part right now.  How he handles himself in the next few months in the face of this adversity will determine a lot given the cancel driven society which we live in today. One thing is for sure, the future for concerts and mosh pit culture is ultimately going to need to be a little less sicko mode.