Pledge Detroit Is Back!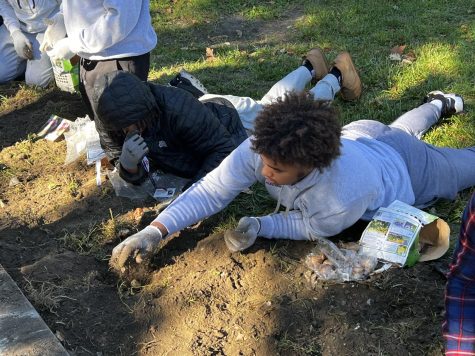 Time to pick up the phone and start calling your relatives, Cubs! It's that time of year again: Pledge Detroit is upon us! 
Pledge Detroit Day provides an opportunity for students to raise funds for student activities at the High while also giving back to the Detroit community through service. Students in grades 7-11 were required to participate in a Day of Service on Tuesday, October 4. They visited and cleaned up multiple sites around Detroit, resulting in a cleaner community and a strengthened brotherhood. "It felt good to help the staff over at Marygrove set up their school, it was refreshing to see the appreciation on their faces when we left and it was good to help those in need," remarked Chris Rupp '24. 12th graders were encouraged to walk, run, or bike ten miles after collecting sponsors in order to raise their required $146. Some seniors decided to walk or run the ten miles, but others took a different approach; "I thought it would be a great idea to hit the links and get my ten miles in. It was a great experience for me because I got the ten miles in while still being able to enjoy my day", reflected Marco Sultana '23. 
Clearly, the 2022 Pledge Detroit Day of Service was a huge success. Students loved their sites and had a chance to give back to the community while bonding with their brothers, seniors embraced the challenge of walking ten miles, and the fundraising aspect of Pledge Detroit is going well. Overall, it was a great experience and students look forward to next year's Pledge Detroit events!