The Ultimate Guide to March Madness 2021
March 13, 2020, was one of the worst days any college basketball fan can remember. This was the day on which the NCAA basketball tournament was canceled for the first time in its 80-year history. The following season has been plagued with hundreds of cancellations, postponements, program outbreaks, and more, but we've finally arrived at the time for the best postseason tournament in all of sports, March Madness. However, if you've been more focused on the NBA season, or Spring Training, or just haven't paid much attention so far, you may have some questions. Who are the best teams? The best players? The most likely upsets? These and more will be answered in the ultimate guide to March Madness 2021.
The Favorites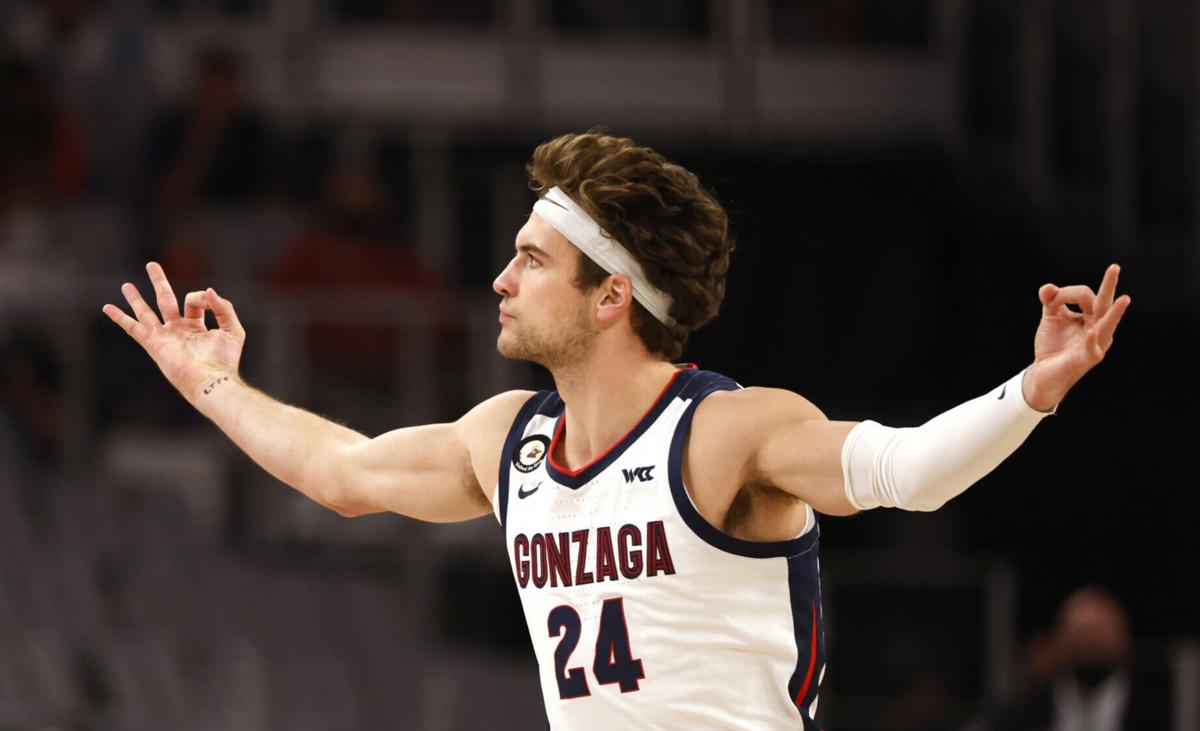 Gonzaga (#1)
The Gonzaga Bulldogs have been the #1 ranked team in the AP Poll all season, and they head into the tournament with an undefeated record and top overall seed — they are the clear favorite. There are so many players on Gonzaga that can hurt you, but the most dangerous may be Corey Kispert, the headband-wearing, sharpshooting senior that's averaging just under 20 points a game. Kispert is one of the best shooters in the nation shooting at a 44% clip and he is a more than capable playmaker and inside scorer as well. He, along with guys like Jalen Suggs and Drew Timme make for one of the most statistically dominant teams in college basketball history. To put the Bulldogs' dominance in perspective, here are two crazy statistics: 25 of their 26 wins have been by double digits, and 12 have been by 20 or more.
Illinois (#1)
Illinois comes into the tourney winning 14 of 15, including a Big Ten Conference Tournament Championship. Ayo Dosunmu and Kofi Cockburn are two of the best players in the country, each earning All-American honors, and they star on a very balanced team, one of just three in the nation with top 10 offenses and defenses, along with Gonzaga and Michigan. Freshman Andre Curbelo has heated up recently as a great 6th man, averaging almost 15 a game over the last 6, and role players Trent Frazier, Giorgi Bezhanisvili, Jacob Grandison, and more have all contributed to a team whose chemistry is palpable when just watching their games. Star players, shooting, and depth are things any team looking to win it all needs, and the Illini check all of those boxes.
Baylor (#1)
Baylor was the second longest-lasting undefeated team behind Gonzaga, winning their first 18 contests before a COVID outbreak and subsequent 2-week pause had them out of rhythm in the first few games back. However, they're still a very talented team, led by two-way guard Jared Butler, who many believe was snubbed for the Big 12 Player of the Year award. Their most impressive win was their 3rd game of the year, a 13-point win over Illinois. A lot of time has gone by since then, but if they can play at that level for 6 games in a row, there's nothing stopping the Baylor Bears from cutting down the nets come April 5th.
Dark Horse/Sleeper Candidates
UConn (#7)
The Connecticut Huskies are headed to March Madness for just the second time since they won it all in 2014, and the fourth since their championship in 2011. One thing those two teams have in common is that both had a star player who willed his team through the tournament — Kemba Walker in '11 and Shabazz Napier in '14. This year's candidate for the Huskies could be James Bouknight, who's averaging 19 points per game. He's had multiple huge scoring outbursts this year, including a 40 point game early in non-conference play. UConn is a 7 seed and will face Maryland in the first round, but don't be surprised if they take down 2 seed Alabama in round 2.
Loyola Chicago (#8)
Many March Madness fans will remember the 2018 Loyola Ramblers and Sister Jean, the now 100-year-old chaplain of the team who gained immense popularity throughout their Final Four run as an 11 seed. This year they've had a similar season, finishing 24-4 and winning the Missouri Valley Championship. Big man Cameron Krutwig has stuck around from the '18 team and leads a deep group, with 7 players averaging over 7 points a game, into a 1st round matchup versus 9 seed Georgia Tech. The Ramblers have the best defensive efficiency in the nation, and could really give a team like Baylor trouble in the second round, and more teams down the line. Sister Jean is back, too, as she'll be making the trip down to Indianapolis to watch her Ramblers.
San Diego St. (#6)
This may be a generous sleeper pick at a 6 seed, but this edition of the Aztecs has flown under the radar of many. After their 30-2 2020 season was cut short and star point guard Malachi Flynn entered the NBA Draft, many weren't expecting much from San Diego St. this year, but they picked up right where they left off. Matt Mitchell and Jordan Schakel are back and are the main offensive weapons for the 4-loss Mountain West champs. Syracuse is their first-round opponent, a team that many were surprised got into the tournament at all, and if they win there they'll likely face West Virginia in what could be a thrilling second-round game.
Players to Watch
Cade Cunningham, Oklahoma St.
If you want to catch a glimpse of the future of the NBA, Cade Cunningham is the star to see. Cade was the top-ranked freshman coming into the year, and he's lived up to the hype, being projected by experts to be the #1 pick of the next NBA Draft. He's the go-to scorer for the Cowboys, making around 10 of his 22 shots a game for an average of just under 20 points, but he's proved he's an all-around player with impressive rebounding and defensive numbers as well. He leads Oklahoma State into the tournament as a 4 seed coming off a Big 12 Championship loss.
Luka Garza, Iowa
Unlike Cunningham, Luka Garza won't be the best NBA prospect because of his lack of athleticism, but he is a great college player. After averaging 24 points and 9 rebounds in his senior season, he'll likely be named the National Player of the Year on April 4th. Luka isn't very flashy, but he's a technically sound post technician who can also beat you from the 3-point line, and is the centerpiece of Iowa's 2nd-ranked offense.
Jason Preston, Ohio
Jason Preston has one of the best stories in all of college basketball, and could easily become a national favorite if Ohio makes a run. After averaging just 2 points a game his senior year in high school, he enrolled at UCF as just a student. He eventually went to a prep school, and, on the school's C team, dominated, made his own highlight reel, and picked up an offer from Ohio. And since then, he's been doing everything for Ohio. He is top 3 on his team in scoring, rebounding, and assisting. The Bobcats are a team looking to make some noise this year, and if they do, Jason Preston will be a big reason why.
Evan Mobley, USC
Evan Mobley is another freshman on this list, projected to go second, right behind Cade Cunningham, in the NBA Draft. Mobley is an athletic 7-footer who has been dominating the Pac-12 with his post play. He'll step out and take a few jump shots a game, but his play inside is what's attracting NBA scouts. As well as offense, he's a great interior defender as well, ranking 8th amongst all power 6 conference players in block percentage. USC as a team is fun to watch too — lots of tall, athletic players and outside shooters, and will await the winner of a play-in game between Drake and Wichita State for their first game.
Upset Picks
Winthrop (#12) vs. Villanova (#5)
Winthrop is one opponent's game-winning shot away from being undefeated right now and will open their second tourney appearance since 2011 against Villanova. Villanova is a perennial championship contender, winning 2 of the last 4 tournaments, and was looking to make a deep run this year until star guard Collin Gillespie went down with a torn MCL towards the end of the season. They haven't been the same since, losing their last 2 games of the season. Winthrop is a team with unheard-of depth, playing 11 different guys 10 minutes or more a game. This is another 12 vs. 5 matchup that could get interesting. 
Colgate (#14) vs. Arkansas (#3)
Colgate won the Patriot League Championship after just a 12 game regular season, finishing with a 14-1 record. They average 86.4 points a game, the 2nd most in the nation, and will face Arkansas, also a top 10 offense. This one might just come down to which team is on, and that very well could be Colgate.
North Carolina (#8)/Wisconsin (#9) vs. Baylor (#1)
This one is the only second-round matchup on this list. North Carolina and Wisconsin are two 8/9-seeded teams that every 1 seed was looking to avoid heading into the bracket reveal, and Baylor, who as previously mentioned has shown some weaknesses down the stretch, will have to face one of the two in their second game, assuming they get past 16 seed Hartford. Wisconsin is one of the oldest teams in the country and 9 of their 12 losses are to top 15 teams according to KenPom, a trusted college basketball analytic. North Carolina is a team that has a lot of talent, just underperforming this year. But if that talent can come together and put together a few good games, they could be a dangerous matchup for Baylor.
UCSB (#12) vs. Creighton (#5)
There were three 12 over 5 upsets in the 2019 NCAA tournament, and there have been 14 in the last 8, an average of 1.75 upsets per year. With UCSB winning 17 of their last 18 games, and Creighton losing half of their last 6 games including a blowout loss in the Big East Championship, this seems like the most likely candidate this time around. Jaquori McLaughlin is the leader of the Santa Barbara Gauchos, averaging 16 points per game.
Ohio (#13) vs. Virginia (#4)
Ohio has been here before. As a 13 seed in 2012, they knocked off the Michigan Wolverines in the first round of the tournament. Now, a coaching change and 9 years later, the Bobcats are back at that same seed line. Jason Preston averages 17 points, 7 rebounds, and 7 assists a game and can catch fire at any given moment, and big man Ben Vander Plas is a force down low. Ohio played 1 seed Illinois very early in the season, and brought it down to the wire, just losing by 2. Virginia is their first-round opponent, and many are predicting an upset, with questions surrounding Virginia's health after a season-ending COVID outbreak, and offensive inconsistencies.
Bracket Tips
Filling out a perfect bracket is a longshot, a 1 in 9.2 quintillion chance to be exact. However, every year, millions and millions give it their best shot. If you're struggling to make your picks this year, here are some tips.
Pick the 1 and 2 seeds through to the 2nd round
UMBC shocked the world in 2018 when they made history as the first ever 16 seed to beat a 1 seed in the first round. However, there's a reason that 1 seeds win the first 132, and have won the rest since. 2 seed upsets are a bit more common, with 8 all-time instances, most recently in 2016, but it's still a safe bet to take them against their 15 seed opponents.
Choose a 5-11 seed to make a deep run
In 9 of the last 10 tournaments, a 5-11 seed has made the Final Four. This year, that could be a bit of a stretch, as the top seeds seem to be much better than usual, but it's a good bet to pick a 5-11 to at least make the elite eight, or a few in the sweet sixteen.
Pick at least 2-3 11 vs. 6 and 12 vs. 5 upsets
The 11 vs 6 and 12 vs 5 first round matchups often feature the most upsets, so think about these closely before you make your decision. Some especially intriguing ones this year are Texas Tech vs. Utah State, Creighton vs. USCB, Colorado vs. Georgetown, and Winthrop vs. Villanova.
Go with a high-seeded champion
A 1 or 2 seed has won 11 of the last 13 championships, and it's a safe bet to go with one of the two this year as well, with Gonzaga, Baylor, and Illinois being clear favorites, and 2 seeds like Ohio State and Alabama looking great as well.
Consider COVID's impact
Kansas and Virginia are two teams who had a positive COVID test just a week before the start of the tournament, so they could look rusty coming out of quarantine, or even missing some players. Also, all of the games are being played in Indianapolis this year, where the Big Ten teams have been for a week for their respective conference tournament. This, as well as some Big Ten arenas being venues for games, could result in more success for the Michigans, Iowas, or Purdues of the tournament, and less for teams that have to travel from the west coast. Or, it could have no impact whatsoever. After all, this is the first time we've seen anything like this.
Remember where the most points are
The first round is easily the hardest to pick in the entire bracket, but it's the least valuable when it comes to point totals for your bracket. The value of your picks increases each round, and the Final Four and championship are extremely important.