Letter From Mr. President- Josh Dorsey
September 13, 2021
Hey Cubs,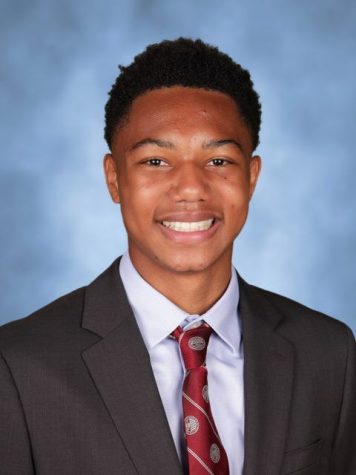 I'd like to welcome all of you back to The High for the 2021-22 school year. It really is great to have all of you back in the building. I, along with my other fellow officers, have been working extremely hard to make sure this is a year to remember, we have already started with the Backfield Blast which had a fantastic turnout. We hosted about 80 academy students and over 500 high school students attended the Backfield Blast, which had 6 inflatables, 4 food trucks, 2 caricaturists, a 9-hole putt-putt golf course, and a live DJ, all of these great resources created a good time for everyone who attended.
I advise all of you to get involved and find your place here at U of D Jesuit. I truly believe that getting vaccinated is the key to put a stop to this continual madness we call COVID-19. I can't wait to get back to normal in order to grant all of you the access to see what the Jesuit experience really is, and to see the work of the powerhouse that you voted for as the Student Senate Officers.
The officers have been planning throughout the summer and during the school days to make great changes to the school. The Student Activities Committee and I have been working on events that cater to every single one of you. Big Mike and his committee have been planning every day to create the best student sections possible. Kyle and his crew have been finding new ways to make Pledge Detroit more engaging to all of you, including a wider variety of prizes, one of the prizes grants the opportunity for one student to take ten friends to the newly constructed Johnson Rec Center. Otto has been on top of his job making sure all of you get news updates on The High on the UDJ Senate Instagram. Lastly, Luke has been working with his co-chairs to give Freshman and Academy students the best experience possible. I can't wait for you all to see what we have in store.
Homecoming is Saturday, September 18, and all the votes are in, James Bond is the theme that the majority of the student body has chosen. I can't wait to see all of you there, it's an event you won't want to miss!
God Bless, and Go Cubs,
Joshua Dorsey '22
Student Senate President