The Future of Travis Scott
November 22, 2021
Who would have thought that a simple music concert/festival would have such severe ramifications? No one, yet that is exactly what happened at Astroworld Festival in Austin, Texas, the now-annual music festival started by famous rapper Travis Scott. At the time of this writing, there are already ten confirmed deaths that have occurred due to the concert, with many more being injured or hospitalized. It is truly a tragedy that no one saw coming, but it now begs the question: how will Scott's future be affected by this whole incident?
A large part of Travis Scott's image and reputation is his live performances, and specifically the "rager" mentality that goes along with it. Over the last decade, hip-hop has seen a steady increase in crazy crowds, stage diving, and mosh pits within concerts. Travis Scott's career may be the best modern example of this, as he has popularized and built an empire on the idea of being a "rager." For those wondering, being a "rager," or "raging," means someone going all out and having high energy at events like these. Some fans have even coined themselves as ragers and classify themselves as Travis Scott fans that way.
Nowadays, many rappers are expected to bring this high-energy, rager aesthetic to their performances, however, it may be time to dial back on that a bit, or at least take necessary precautions. It will be interesting to see how Scott's career pans out in the coming months and years since his image relies so heavily on this so-called rager mentality. Some of the effects have already been seen, as Travis Scott has had to cancel his upcoming shows and performances, and his next sneaker collaboration with Nike, which was set to drop December 16, has now been postponed indefinitely. In addition to consequences like these, Scott now has to worry about the many lawsuits that are being filed and the costs of the funerals for those who passed away, which Scott has agreed to pay for. At the time this article was written, Scott is being sued for $750 million.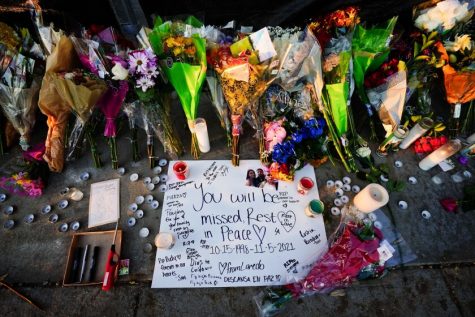 There are also many people across the internet that are putting all of the blame on him, and even theorizing that the whole performance was some sort of ritual and it's all connected to the devil and hell-yes you read that right. There are multiple articles and theories about this. Many fans believe that Travis Scott will have to lay low for a while now, which is unfortunate for him, as he was just getting back into performing live after the COVID-19 rules were lifted and was just getting ready to roll out his next studio album, Utopia.
Scott may now have to change his whole image and aesthetic in order to prevent anything like this from happening again and so he can eventually be viewed in a better light by the public. These events have already caused some rappers and artists to present a cautionary message prior to the show and check on their fans periodically throughout the concert. I think this will become more of a trend in the near future thanks to the catastrophe that took place at Astroworld Fest. Who knows what will unfold for Scott's career in the next couple of years, but all we can do is pray that a disaster like this never happens again.