Ohio State vs. Michigan: Harbaugh's Last Chance to Prove Himself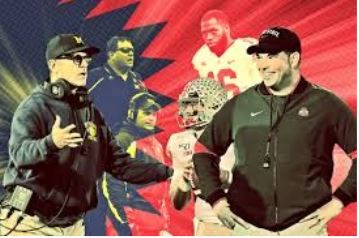 Well, here we are, the last week of what has been a wild college football season. We've seen a group of five teams make it to one of the top spots in the college football playoffs. We've witnessed what may be one of the greatest defenses of all time with the Georgia Bulldogs, and we've seen a completely improbable Alabama loss. But nothing has been more crazy this season than the Big Ten East. At one point this division had four top ten teams with Penn State, Ohio State, Michigan State, and Michigan. Yet as the season went on, only two teams have been given the opportunity to play for the Big Ten East division title, those two teams being Michigan and Ohio State who will face off in Ann Arbor for their annual rivalry game this Saturday, November 27th for a noon kickoff.
Taking a closer look at U of M, there seems to be a sense of urgency this year from the Wolverines. Jim Harbaugh has yet to beat Ohio State in his seven year tenure as the Michigan head coach. On top of that, he is currently 2-13 against top 10 opponents with another loss coming to at the time number eight ranked MSU earlier this season. Yet, even with all that, this year seems to be one of the best chances Harbaugh has to beat Ohio State. The key to beating them this year is going to be how well Cade Mcnamara will be able to air the ball out and if they can get some explosive plays from wide receivers. We saw in Ohio State's dominant win against MSU that you cannot rely on just being able to run the ball against them and expect to win a game. You have to be able to air it out, as well, and McNamara has shown flashes of being able to do that here and there this year. It's anyone's guess, though, if we'll see it against Ohio State.
Ohio State on the other hand comes into this game with very different expectations. This Buckeye team, ever since the loss to Oregon this year, has been dominating their opponents and have a Heisman favorite Quarterback in C.J. Stroud. Obviously, this game is not do-or-die for Buckeyes head coach Ryan Day as he has proven multiple times that he is able to beat Michigan. But, losing this game would mean that they could not make it to the college football playoff which would be a very disappointing season ending for OSU. The key to them winning this game is for them to play exactly the way they played Michigan State. The way they aired out the ball was unstoppable and if they can do that against Michigan then they should win easily.
All in all, this is going to be the biggest game of the year for both teams. College football fans everywhere will be tuned in to see this masterpiece on turf. Both teams have a lot on the line with this game and this could possibly be the game that decides Harbaugh's future in Ann Arbor. With that being said, I still predict that Ohio State will win this game. They look unstoppable right now and are firing on all cylinders while Michigan on the other hand has way too many question marks on whether or not they'll be able to pull it off.