Take A Break! Why Taking a Retreat Should Be on the Top of Your 2022 "To-Do" List
In 1877, a journey began to educate young men throughout southeast Michigan with a world class Jesuit education. This journey continues at 7 Mile and North Cambridge with around 1000 young men entering the doors of the University of Detroit Jesuit, seeking something more. 
Now, some people may say that you could find this education anywhere else throughout Metro Detroit, but U of D has something more. The Jesuit difference. This school was founded by the Jesuits with the mission of creating men for others who will set the world on fire. While they did intend for this to occur through rigorous educational standards and multiple extracurricular activities, there was another primary focus – faith and community, to build a brotherhood.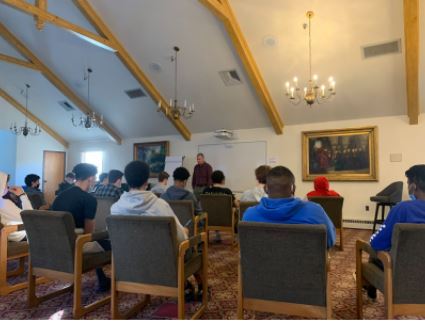 This school is considered a brotherhood of students who are committed to not only growing together, but being there for each other. We are called through both our faith and brothers to watch out for and push each other to become better people. Though you may not guess it when you first begin in 7th or 9th grade, when you finally wear your cap and gown you will be a part of the most tight knit group of brothers you may have in your life. This commitment to each other does not just spring up overnight though, this is a growing relationship between students that develops over years. Many students wonder how to build these stronger and more powerful relationships and I firmly believe there is one primary factor that helps facilitate this growth – retreats. 
As a senior this year, I can say without a doubt that retreats have been essential to forming me into who I am today. When talking with Ms. Costello, Director of Campus Ministry and Service, she believes that an education at U of D is incomplete without attending at least one retreat throughout your many years here. She believes there are several reasons why retreats are essential to our formation at this school.
First and foremost, this school is modeled after the Jesuit traditions of St. Ignatius of Loyola. St. Ignatius went through a challenging life where he gathered his thoughts into ways to examine our conscience through the Examen and Spiritual Exercises. With this constant examination into his life, St. Ignatius became the patron saint of retreats. On top this, Ms. Costello says, "as a Jesuit school, it is our job to form men to be men of this world but also to be men in prayer. You need this to fuel yourself." U of D Jesuit is cemented in the idea that prayer and retreats are essential times for us to look into who we are, finding a time to reflect on ourselves and our purpose.
Each retreat at U of D provides students with a longer time to reflect and build a brotherhood with fellow classmates. This begins in freshman year through the Kinship retreat which is a one day retreat. This gives freshmen the opportunity to find new friends and be immersed in the culture of U of D. The sophomore retreat is a two day retreat where you can begin to examine who you are as a person and who others are in your life. It begins to provide you the resources to discover your faith while growing in brotherhood with your friends. Junior year is a very impactful three day retreat where we learn about the shared experience we each have. We learn how we are all similar, we further grow in our faith, and develop extremely strong friendships. Finally, there is the senior retreat called Kairos. This is the pinnacle of the retreat experience as you head away from the High for four days. This is a student led retreat where you leave behind any worry of the real world and truly immerse yourself in God's time. 
Secondly, retreats provide an opportunity to just press pause for a moment. There are so many times when we get so caught up in our sports, getting good grades, and meeting expectations that we forget to ever focus on ourselves and who we are. Ms. Costello remembers going to retreats at Mercy High School and says, "our world fails by telling us you are what grades you get, you are what work you do, you are what you produce." Retreats give us the opportunity to discover "what does your inner room look like, your inner heart." These retreats provide you an opportunity to not live up to a status quo or deadline, but rather just be yourself. It allows us to reflect on how we have failed and what we have gone through with our brothers, allowing us to see how we are all going through life together.
Finally, retreats are an opportunity to create lifelong friendships at U of D and beyond. These friendships are created now only with other students at U of D, but with your God and teachers as mentors. I have attended every retreat I have been offered at U of D and have the closest group of friends as a result of it. Particularly after attending the junior and senior Kairos retreat, you develop a relationship with people that will last you the rest of your time at this school. I am so thankful for these opportunities to discover who my friends can be as I can genuinely say I love my brothers at this school.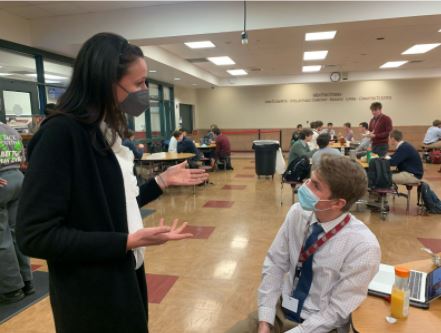 Now, you may be hesitant to go on a retreat for several reasons. Maybe you aren't religious or Catholic and don't think you would fit in. Maybe you don't have many friends yet and are nervous to go. Or maybe you even just think you will get behind and school because teachers will just leave you in the dust. These are all common misconceptions.
You do not have to be Catholic to attend one of these retreats. Around 70% of the student body is Catholic but a much smaller percentage is practicing. All types of faith are encouraged to go on this retreat because you will get out of the retreat whatever you put in. In the past, some students may have gotten a stronger relationship with God while some have emerged with clarity of mind and life long friends. It truly depends on what you want. And you may be thinking that you are a different faith and will not fit in on retreats. In the past there have been students that attend retreats that are Jewish, Muslim, Agnostic, Protestant, or even Atheist that have all gotten something incredible out of the experience. Ms. Costello says, "kids equate a catholic school to a catholic retreat where the primary focus is on God, Don't be afraid, experience a retreat before you judge it." This experience no matter what will allow you to become a part of a strong brotherhood that has been continuing since 1877, and teachers know this is what you need. They will provide you with the time and extra resources to make up assignments when you leave for retreats, just make sure you talk to them!
You do not want to be the student who misses out on a retreat experience at this school, make sure you take advantage of everyone. While numerous students take advantage of retreats, not everyone does. Ms. Costello says 100% of students attend freshman retreat, 90% attend the Kairos retreat, 50% attend sophomore retreat, but only around 33% attend junior retreat. Do not forget to take these opportunities to attend these retreats. To sign up, just stop by the Faith and Service Office and talk to someone in the office. They will point you in the right direction to sign up and take a much needed break to reflect. If you get something out of this retreat experience, make sure you encourage friends and other students to attend because you know how impactful these experiences can be. 
 "Trust the process, trust your friends, and you won't be losing anything from attending. Number one thing students wish they did [at U of D] was get more involved in the school and go on these retreats. Don't regret it." Listen to Ms. Costello and "just take the risk, go on a retreat."