Breakdown of the Madness
Here are some late minute tips to help those still undecided!
When first round action of March Madness begins this Thursday afternoon, it will be the first time the NCAA Men's Basketball Tournament has been held with fans in three years, after its cancellation in 2020 and being held without fans last year. And not only will the return of fans bring excitement to the tournament, but it looks to be an entertaining post-season from a basketball standpoint as well. As always, March Madness is a difficult tournament to cover completely, with 68 teams and hundreds of players, but this article will attempt to briefly summarize the important teams, players, and storylines making up this year's tournament.
The Favorites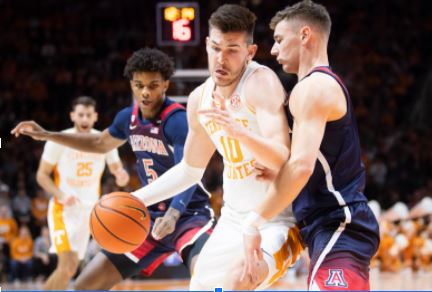 Unlike last year, where the one seeds seemed to be the only ones with a real chance of winning it all, the debate on who this year's front-runners are is open. Here are some of my top choices to win the tournament.
Gonzaga (#1 seed)
The number-one overall seed in this year's tournament is Gonzaga. The Bulldogs were undefeated all the way until the national championship game last year, where they were blown out by Baylor, and although this year's team isn't as good as last year's, they're still in great position to win their first national title. Despite a sizeable portion of fans who might try and tell you that Gonzaga is never ready for the tournament, they're really one of the most consistent teams year in and year out, making sweet 16 appearances in the last six, including two elite eights and two national championship games. Drew Timme and potential #1 NBA Draft pick Chet Holmgren are the stars of Gonzaga, both with center body-types, but with very different play styles. Drew Timme does his work in the post, while Chet Holmgren can handle the ball on the fast break and shoot from the perimeter like a guard.
Arizona (#1)
The Arizona Wildcats have burst back onto the national college basketball scene this year under first-year coach Tommy Lloyd. They've been led to a one-seed by a duo of star guards in Benedict Mathurin and Kerr Kriisa, but it's still uncertain if or when Kriisa will play in the tournament, still recovering from an ankle injury sustained in the Pac-12 tournament. Arizona will still have Mathurin though, an athletic knockdown shooter, along with bigs Christian Koloko and Azoulas Tubelis to pick up the slack.
Tennessee (#3)
Aside from the top two overall seeds, Tennessee is a 3-seed with potential to win it all. Likely underseeded after their SEC tournament victory, the Volunteers start their games with a unique three-guard lineup including two standout freshmen Kennedy Chandler and Zakai Zeigler. John Fulkerson, another key piece, has been a staple of Tennessee basketball for a long time now, a sixth-year player competing in his fourth NCAA Tournament with the team. This year's Tennessee team is known for its defense, with the third best defensive efficiency rating in the country.
Villanova (#2)
The Big East Tournament champion Villanova has won ten of its last eleven games, and has had great success in March under coach Jay Wright, winning two of the last five NCAA Tournaments. Fifth-year senior guard Collin Gillespie has been a major part of their success this year, exposing the lack of post defense skills in many opposing guards with his moves down low, while also shooting above 42% from three on a team-leading 232 attempts. Villanova has shown the ability to win in different ways this year too, beating good opponents in both high-scoring and low-scoring affairs, which could come in handy in the wildly unpredictable tournament. The Wildcats, like Tennessee, aren't the most popular pick to win it this year, but with their experience and winning reputation under coach Wright, they very well could cut down the nets again this year.
The Upsets 
Last year, Oral Roberts pulled off a sweet sixteen run that college basketball fans will remember forever. While there may not be a story quite as unexpected or as successful this year, there are always upsets in March Madness, and here are some potential candidates.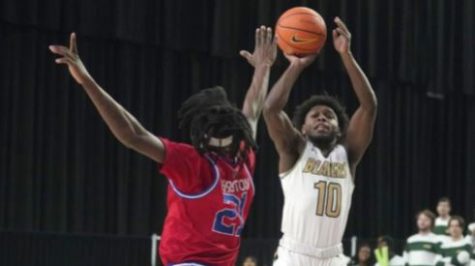 South Dakota St (#13) vs Providence (#4)
A trend with a lot of these upset teams is high-powered offenses, and that is certainly the case for South Dakota State. The Jackrabbits rank 12th in the nation in offensive efficiency, headlined by the top 3-point percentage in the country, over 44%. They don't rely on the three too heavily though, as they have shown the ability to win games down low, especially on the shoulders of senior leader Douglas Wilson. Providence is a team notorious for playing in close games no matter the competition and is coming off a blowout loss to Creighton in its first game of the Big East tournament.
Vermont (#13) vs Arkansas (#4)
The Vermont Catamounts are another efficient offense, ranking third nationally in 2-point field goal percentage. Different from South Dakota St, though, they play a very slow pace on offense, which could perfectly contrast the high tempo of JD Notae and Arkansas. Vermont is also the 2nd most experienced team in the field by average years in college, and their top six minutes leaders are all seniors, most of whom have played in the tournament before: in 2019 when the Catamounts gave another 4 seed, Florida State, a scare in the first round.
UAB (#12) vs Houston (#5)
If you haven't heard of Jelly Walker, you will soon. The 5'11" junior point guard averaged 31 points per game during UAB's conference tournament championship run, along with leading their team in assists this season. He's a great shooter too, over 40% on the year, and so is UAB as a whole, a top ten team in the country in 3-point percentage. UAB's conference, Conference USA, has had remarkable success in recent NCAA Tournaments. In just the last six tournaments, all of which have included just one C-USA team, said teams have accumulated five first-round upsets, including UAB beating Iowa State as a 12 seed in 2015, and Middle Tennessee State over Michigan State as a 15 seed in 2016, an upset that likely broke many Cub readers' hearts.
Colgate (#14) vs Wisconsin (#3)
Wisconsin may have been regular-season Big Ten champs, but they're far from a safe pick in the tournament this year. The Badgers followed their championship-clinching win with a loss to perennial Big Ten bottom-dweller Nebraska at home, and then were outed by Michigan State in the first round of the conference tourney. Aside from recent losses though, the Badgers struggled to separate themselves from inferior talent in early season play, with close games against Nicholls St and Illinois State. Colgate had its fair share of early season losses, but it has finished on a 15 game win streak. The Raiders were a hot upset pick last year, almost pulling it off, and they'll look to notch their first tournament win in school history this year.
Players to Watch 
From future NBA stars to four-year players, here are some of the best and most entertaining players in this year's tournament.
Chet Holmgren, Gonzaga (#1)
Chet Holmgren, the aforementioned potential first overall NBA draft choice, is almost without a doubt the most intriguing player to watch in college basketball. At a 7'0" frame, he has guard skills with the ball, and can score in so many different ways, driving to the rim, hitting off-the-dribble threes, or outrunning you in transition. His defense is superb as well, as he's currently number 4 in the country in blocks per game. Holmgren is a highlight reel waiting to happen game in and game out, and is a must-watch player in the tournament.
(Source: Detroit Free Press)
David Roddy, Colorado St (#6)
Colorado State has achieved their highest seed in school history this year, in large part due to David Roddy, a forward with one of the most unique games in college basketball. Standing at 6'6" and weighing 255 pounds, he's a handful for any defender with his varied skill set. According to Synergy Sports' analytics, Roddy ranks in the 90th percentile or better nationally for his efficiency in post-ups, isolations, as the pick and roll ballhandler, and on pull-up jump shots. He averaged nearly 20 points per game this year along with 7.6 rebounds. Michigan gets the Rams in the first round, and it'll be interesting to see how they handle Roddy.
(Source: Colorado State University Athletics)
Keegan Murray, Iowa (#5)
Keegan Murray has led Iowa to being one of the hottest teams in the country coming into the tournament. The sophomore who has quickly risen up NBA draft boards is another guy with a wide arsenal of offensive weapons, scoring on drives inside, jump shots, and post ups, all contributing to the number 2 team offense in the country. Murray has scored 20 or more points in 13 of Iowa's last 15 games, including 30 or more three different times. NBA scouts will have eyes on Keegan Murray throughout the tournament, and so should many fans at home.
(Source: Twitter)
Peter Kiss, Bryant (#16)
Peter Kiss could very well be eliminated from the tournament by the time you're reading this, as his Bryant Bulldogs have to play their way into the field of 64 Wednesday night, and as a 16-seed, the odds are low that they'll have much success, but Peter Kiss is a player too fun to not include. He's the nation's leading scorer at 25.1 points per game, but he's gone recently viral online for his celebrations, trash-talking, and general cockiness – especially from the Bulldogs' nationally televised historic routing of Wagner in their conference championship game (Bryant led 36-6 late in the first half). He's pretty much an all-around scorer, but he thinks he's a much better shooter than he is, taking over 6 a game while shooting under 30%. If there's anyone that can convince the college basketball world that a 16-seed can get a second win in the tournament, it's Peter Kiss.
(Source: NJ.com)