Club Spotlight: Forensics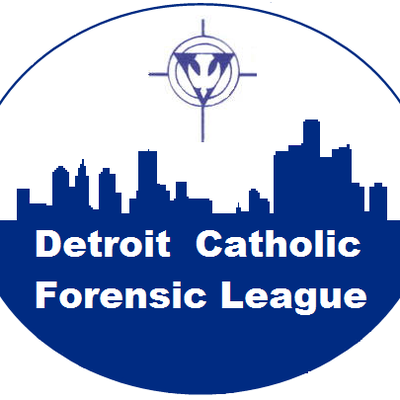 When it comes to the vast selection of clubs and activities that University of Detroit Jesuit High School students get to choose from, some of them are not given the spotlight and attention that they deserve. Forensics, for one, is not known by that many students yet is one of the most competitive and time-consuming activities that students take part in every year. After a season of hard work and dedication, the Cub's forensic team took home a first place win!
Jackson Glover, a forensics veteran, took home the first place win at the Detroit Catholic Forensics League (DCFL). To those who aren't aware of the sport, Glover goes on to explain that "Forensics is the art or study of argumentation and formal debate.  It can be used in courts of law or public discussion and debate. This year my category of choice was an Oral Interpretation of Literature. DCFL is a  collection of 16 Catholic high schools across southeastern Michigan which include Academy of the Sacred Heart, Brother Rice, Notre Dame Prep, Mercy, and the beloved University of Detroit Jesuit High School."
For his poetry portion, Glover performed Dear White America and Dinosaurs In The Hood both by poet Danez Smith, which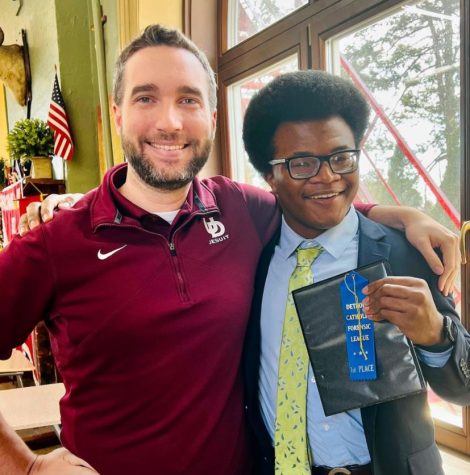 reflects the ongoing issues surrounding racism in America.  For his prose portion, which is a short story, the piece was Thank You, Ma'am, By Langston Hughes, which is about a boy who tries to rob a woman of her purse and how she cares for him despite him trying to steal from her. Glover chose these articles in inspiration that art and expression can help heal the brokenness in the world.
On the day of the competition, Jackson Glover was both excited and nervous: "I first started competing in January and before my competitions, I would get extremely nervous waiting to get called up to perform.  Prior to being on the team, I had an enormous fear of public speaking and just speaking in front of any group of people." However, as we will soon learn, this nervousness and anxiety would soon evolve into excitement and joy.
Jackson Glover explains what happened on the winning day: "On Saturdays, once all three rounds of competitions are complete, all the competitors gather for what is called the Ribbon Ceremony, where we find out our scores and our rankings. There are only ribbons for the top 6 in each category which means to be in the top 6 you have to bring your "A-game."  After practicing with Mr. Alex Davidson, the head coach for the U of D Jesuit Forensics Team and the president of the DCFL, he gave me pointers on how to perfect my presentation and higher my scores after my 5th place win on January 26, 2022.  His advice and guidance led me to win 1st place on March 5, 2022, which was my first time placing this high.   It was a complete shock to me as this is my first year on the team and only the 3rd competition of the season. This was all followed by my most recent win on March 12, 2022, also placing 1st again for the second weekend in a row. These wins mean a lot to me and are proof that you can do anything you put your mind to."
Glover commits himself to the belief that anyone can accomplish anything with hard work, support from others and major dedication. Through his story and his victory, this lesson is found to be true in many ways – through both the story of Jackson Glover and the betterment to the school that he brings.