Swim Team Bring Home the Catholic League Title
After 51 years of a Catholic League Championship drought- the UDJ Swim team brought the title back to The High
6 years ago, coach Drew Edson first took over the U of D Jesuit swim and dive team. He had a clear vision for what he wanted the future of the team to look like. Edson
dreamed of creating a team that the school could be proud of instead of the laughing stock that it was in the past. He dreamed of a team that others feared when they saw the word "Cubs" on a swimmer's cap.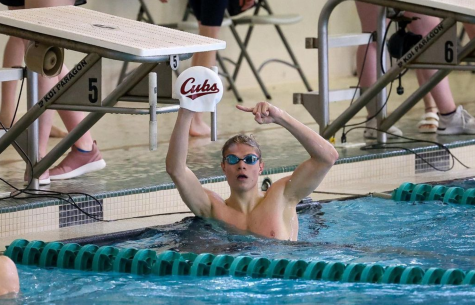 He dreamed of leading a team that kids who were choosing what high school to swim with would think U of D Jesuit. And finally, he dreamed of his team not just being a team, but being a family. Coach Edson knew that this dream would take time and effort not only on his part, but it would also take effort from those he coaches and for them to buy into what he was saying. His motto "Brick by Brick" reflects all that he aspires to do and the way he leads his team. On Saturday, March 5th, the Cubs swim and dive team added a very big brick to the house that they've been building as they won their first Catholic League championship in 51 years!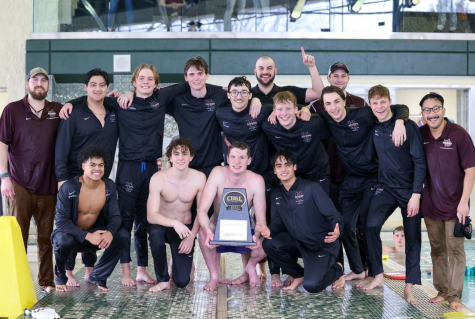 From start to finish the Cubs absolutely dominated the competition winning 8 out of the 12 events. During the meet, the 200 free relay, which consisted of freshman Evan Tack, Kiernan Tague, seniors Drew Collins, and Charlie Bruce, they broke the school record in the event with a time of 1:26.15. This was also 5 seconds faster than the second-place finisher in that event. Both Charlie Bruce and Drew Collins landed four 1st place finishes on that same day. Some other highlights of the day include senior Christian Bouchillan placing second in the 200 IM and first in the 100 back with his brother, Jordan placing 2nd, freshman Matthew Garza dropping 8 seconds in his 500 free to place second in the event, and freshman Evan Tack placing second in the 100 breast. 
Two other swimmers who deserve a shout outs are seniors Jake Ervin and Alec Koscielniak, who, in prelims on Friday, both got their state cuts, with Ervin going 22.27 in his 50 free, and Koscielniak dropping 6 seconds in his 100 breast to finish with a time of 1:02.58.
While the team may have not finished the season the way they wanted to, finishing second at states behind Ann Arbor Skyline in a very close meet, the team still has a lot to be proud of with it being the most successful season in UDJ swim and dive history. Every year, this team is becoming what coach Edson has imagined and the house that they're building is only becoming more and more complete. And as for the team in the next upcoming years, the expectations only get loftier and loftier as they look to defend their Catholic League Championship and to come back and win the team's first state title in program history.