Senior Eagle Scouts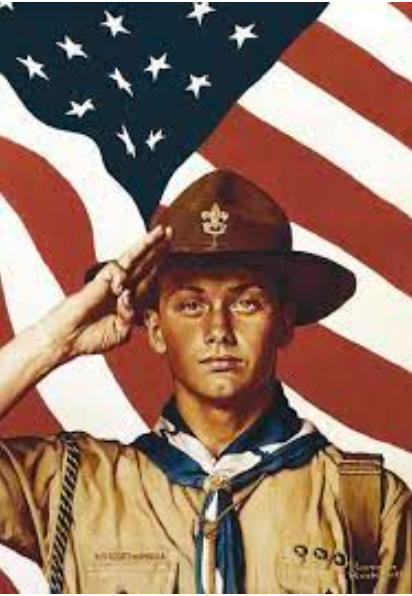 Each year UofD Jesuit recognizes Seniors who have completed many accomplishments whether academic, athletic, or extracurricular. One such extracurricular that is noteworthy is the achievement of the Eagle Scout Rank in the Boy Scouts of America. 
"The mission of the Boy Scouts of America is to prepare young people to make ethical and moral choices over their lifetimes by instilling in them the values of the Scout Oath and Law." 
In 1908, a cavalry soldier named Lord Baden Powell published Scouting for Boys which talked about campout techniques and life skills he learned while leading a small expedition on BrownSea Island with several young men. This novel laid down the foundational framework of the scouting movement as groups and units popped up across Britain and Europe. The following year, W. D. Boyce was traveling in Britain when he became lost, but luckily a young scout in uniform guided him to his destination. Inspired by the young man's actions, the Boy Scouts of America (BSA) was founded on February 8th, 1910 when Boyce brought the idea of Scouting back from Europe. From there, the movement grew across the country and in total has had over 130 million youth members with thousands of units across the country. 
Of those 130 million total youth members, only 2,598,999 have achieved the rank of Eagle Scout. This means only around 2% of all people who joined the BSA achieve the rank of Eagle. 
One of the requirements to receive this prestigious award is to complete an eagle scout project. This project improves, supports, and gives back to a community such as a school, institution, or religious group. Below, we would like to highlight the several Eagle Scouts of the class of 2022 along with their projects.
Daniel Witsil is a member of Troop 701 out of Farmington Hills, Michigan. Daniel helped create the Student Wellness Resource Center at UofD Jesuit. When I asked Daniel what the purpose of this space is, he said "[to combat] substance abuse, eating disorders, and body dysmorphic disorders, bullying, anxiety, depression, and poverty." These are all major issues facing students today throughout the United States. Daniel hopes this can be a space where students, faculty, and staff can relax and find a place to combat the challenges they face in a healthy way. Feel free to check out and use the resources found in this center at any time!
Alec Koscielniak is from Troop 1127 out of Dearborn, Michigan. Alec noticed the Old Redford Theater overflow parking lot in Detroit was being neglected and overgrown. After contacting local stakeholders, Alec realized he could benefit the community by cleaning the lot to provide local parking. Alec organized a team and was able to remove numerous plants and debris that covered the entire area. Alec did this to support the local community and businesses to ensure after the COVID-19 pandemic they could receive as much support as possible. 
Trevor Eisenbacher is a member of Troop 1094 out of Clawson, Michigan. Trevor noticed his Raintree Village Park Reforestation Project was lacking numerous trees and greenery so he reached out to the home owners association. After coordinating how he could help, Trevor organized a team and raised $2,600 to purchase tools and trees to begin planting them. Trevor's team planted over 50 trees in the park and have provided many more residents with a great experience. He hopes people will continue to support the local park for years to come and enjoy the natural scenery. 
William Piskie is a member of Troop 1610 out of Royal Oak, Michigan. William saw the major issues being caused due to the COVID-19 pandemic and took it upon himself to help his community. He assembled a team to raise money and purchase materials to create 243 cloth masks. These were all donated to the Labre Ministry team to give to the homeless of Detroit to protect some of the most vulnerable from the virus. Will's hope for this project was to support the homeless who were already suffering. This project significantly helped the community and saved numerous lives that could have been lost without his help. 
Danny Miller is a member of Troop 1634 out of Berkley, Michigan. Danny led a project to raise $3,400 to install a flagpole, flag, and landscaping for the Berkley Public Safety Department. He also helped conduct a 9/11 ceremony to officially install the flagpole. The purpose of this project was to remember every first responder who has given their life in service to protect the lives of others. Danny's hope in completing this project was that his community could come together to unite behind a cause and respect each other as heroes risk their lives combating fires and saving lives. 
Andrew Hall is a member of Troop 271 out of Livonia, Michigan. Andrew was looking for a way to support St. Michael's Catholic School in his community to help young children learn more about the outdoors and animals. After consulting members of the school community, Andrew decided he would construct a butterfly garden in the area. Andrew assembled a team to fundraise and construct the butterfly garden. Andrew hopes the outdoor space will provide young students an easy way to learn more about nature for many years to come. 
Jonathon Barringer is a member of Troop 755 out of Northville, Michigan. Jonathon noticed there were no local dog parks with equipment to allow dogs to be active. After consulting the local government, Jonathon decided he would fund and construct a local dog park for his community. Jonathon fundraised for money and brought together a team of volunteers to make this project a reality. Jonathon hopes this agility course will continue to benefit dogs in the community and provide families and their pets with great experiences.
Congrats to all these Eagle Scouts who have served their local communities and received this award.
If you are an Eagle Scout and were not mentioned, please send us a message to receive recognition.