Jiang Nan Noodle House Journey
Farmington Hills tastiest noddle resturant.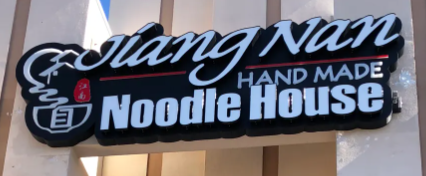 Have you ever gotten that dreadful feeling where you open the fridge and there is nothing but a depressing half-full jar of mayo and two slices of white bread? Well, Andrew and I went on an afternoon journey to Jiang Nan Noodle House of Farmington Hills in order to combat this unpleasant feeling.
For all you bland eaters that just put salt on your food, turn your attention to China. Chinese cuisine involves a large assortment of herbs and spices that makes their dishes pop. The Chinese have mastered the combination of noodles and broth from times dating to the Han dynasty. They were so popular that noodle shops in cities remained open all night and were a large attraction in the area. With that said, Chinese broth consists of different medleys of meat, including pork, chicken, beef, and  duck. The noodles are normally made from rice flour, however, the thickness of each noodle comes from using wheat flour and the amount of water incorporated. The Chinese are in fact famous for their noodles, but their unique side dishes are not something to be slept on.
The appetizers that Andrew and I ordered were pork dumplings, scallion pancakes, and crab rangoons. The pork dumplings had a soft and steamy feeling on your tongue that was enhanced by the rich and salty soy sauce. I, however, could not comment on this dish due to religious dietary restrictions which include no pork. It was not halal mode. The scallion pancakes, served with chili oil and the satisfaction of dipping them in noodle broth, were incorporated with bread dough and scallions. Lastly, the fan favorite, fried crab rangoons, "were absolute gas" (Andrew English '23). The crunch in each bite combined with the smooth cream cheese and the vibrant taste of crab made it seem like the crab's death was justified. These wontons were dipped in sweet and sour sauce, giving the eater a delectable sensation. And if all these flavors weren't sufficient enough, Andrew and I also ate braised beef soup with grilled bok choy and spring onions. Each bit of the beef was tender and flavorful, enriched by the warming sensation of the broth's aroma. With every gulp of the 24-hour bone broth, there was a sense of safety and comfort. The bok choy added texture to every bite and the slight bitterness perfectly contrasted the sweetness of the beef and chili oil. 
| | |
| --- | --- |
| Food | 4.8 ⭐ |
| Service | 4.3 ⭐ |
| Facility | 4.2 ⭐ |
| Ambiance | 4.6 ⭐ |
| Overall | 4.5 ⭐ |