Six College Football Quarterbacks to Watch in 2022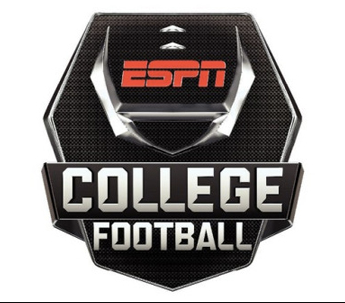 College Football season is heating up! Two weeks in, fans are already overwhelmed with awesome games and great talent. The first half month has shown how much starpower there is at the quarterback position alone. No matter if you are a casual football fan, or a college football junkie, you know how important the quarterback position is to a team's success. I'm here to break down six quarterbacks that you should keep your eye on this season. This list is not my ranking of the six best quarterbacks in college football, but quarterbacks who I find entertaining, fascinating, and capable of making national headlines. 
➢ Bryce Young – Alabama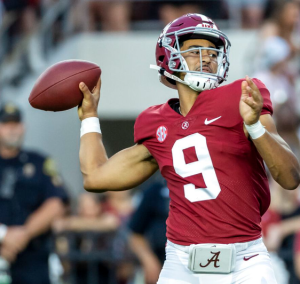 Bryce Young is widely regarded as the best quarterback in college football. Young returns to Alabama for his junior year after impressively winning the Heisman Trophy as a sophomore. During Young's trophy winning campaign, he passed for over 4,800 yards, 48 touchdowns, while completing 67% of passes. This historic season led Alabama to the SEC championship, though the Crimson Tide eventually fell to Georgia in the national championship. Young lost two key wide receivers to the NFL in Jameson Williams and John Metchie. Alabama, being the dominant program they are, still has great targets for him to throw to in Jermaine Burton and Traeshon Holden. Young performed well in his first game against Utah State, throwing for 195 yards and five touchdowns, while only playing a few quarters. Week two against Texas, Young played well again, and led the Tide on a game winning drive to secure a win in Austin. Alabama coach Nick Saban praised his quarterback after the game saying, "When his best was needed, he was really good." In his time at Alabama, Young has shown skill, composure, and maturity. I expect a great 2022 season out of Young before he is picked high in the NFL draft next April. 
➢ C.J. Stroud – Ohio State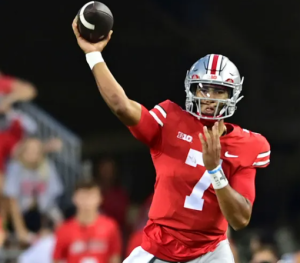 Bryce Young may be the best quarterback in college football, but C.J. Stroud is the best quarterback prospect in next year's NFL draft. Last season, Stroud filled Justin Fields' shoes excellently, becoming a Heisman finalist while throwing for over 4,400 yards and 44 touchdowns. Like Young, Stroud lost two elite receivers to the draft in Garrett Wilson and Chris Olave, but Jaxon Smith-Njigba, the third option on last year's team, is expected to be the best receiver in the country. Stroud and the Buckeyes started off the season well, beating Notre Dame by eleven and crushing Arkansas State. Watch out for Stroud''s strong arm and elite field vision this season, and expect him to be the first quarterback selected in the NFL Draft next April. 
➢ Caleb Williams – USC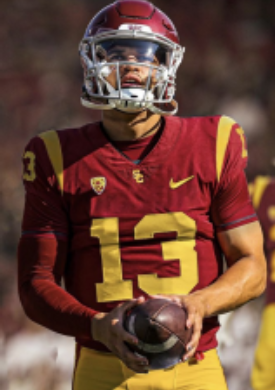 Caleb Williams is the top transfer in a heavy year of quarterback relocations. Following Coach Lincoln Riley over from Oklahoma, Williams is expected to make an immediate impact for the Trojans. Williams took over at quarterback for the Sooners in the middle of their annual rivalry with Texas last year, mounting an epic rivalry, and leading the Sooners to a thrilling 55-48 victory over the Longhorns. The Trojans also acquired one of the best receivers in the nation last season, Jordan Addison, from Pittsburgh. Williams started his USC career off excellent, throwing for 590 yards and six touchdowns in his first two games at Southern Cal. Williams is going to thrive in a high powered Lincoln Riley offense, and expect for the Trojans to make a run for the Pac-12 title.
➢ Grayson McCall – Coastal Carolina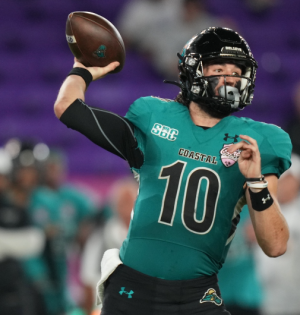 Not every great college quarterback comes from an elite, major conference power. Grayson McCall has proven that he's one of the best quarterbacks in the nation while playing at Coastal Carolina. McCall enters his junior season as a Chanticleer, ready to dominate the Sun Belt. As a sophomore, McCall was tied for the most passing touchdowns in the Sun Belt, with 27. The Junior is also a threat on the ground. In his first two seasons as Coastal's starter, he rushed for 829 yards and 11 touchdowns. He performed well in his first game of the 2022 season, passing for 174 yards against Army. Expect McCall, and his dual threat play style, to light up defenses all season long. 
➢ Drake Maye – North Carolina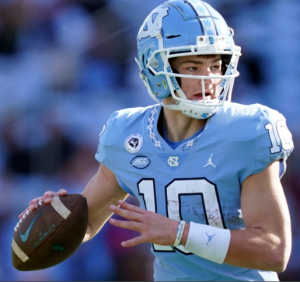 Drake Maye is on this list because of his stellar start to the 2022 season. The brother of former Tar Heels basketball star Luke Maye, Drake steps into the starting role, filling the shoes of Sam Howell, who left for the NFL last spring. In Maye's first few games of 2022, he has looked extremely strong, leading Carolina to a 3-0 start. Maye has completed 73% of passes, thrown for 930 yards, and scored 11 touchdowns. Maye's impressive game, paired with a solid Carolina team, could lead the Tar Heels to success in 2022. I believe Drake Maye will continue to impress, and lead Coach Mack Brown's team to a winning season. 
➢ Cam Ward – Washington State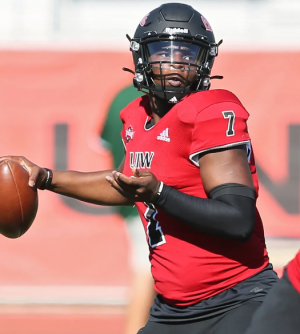 Cam Ward is probably the one guy on this list who you haven't heard about yet. It makes sense, because Ward spent his first two collegiate seasons at Incarnate Word, a small, Division I, FCS school in San Antonio. At Incarnate Word, Ward went off, throwing for 71 touchdowns and just under 7,000 yards in two years as a Cardinal. After a successful sophomore season, Ward 
headed northwest, transferring to Washington State. In his first game as a Cougar, Ward performed well, leading WSU to a win, while throwing three touchdown passes. In his second game, Ward struggled, but was still able to score a touchdown as Washington State defeated 19th ranked Wisconsin. Draft Wire commented on Young's performance saying, "the fact that Ward went into a hostile environment and led his team to an upset win over a ranked opponent will definitely garner some favor with NFL scouts." The Cougars may not contend for a National Championship this season, but tune in to a late night Pac-12 game to check out Cam Ward's talent. 
Honorable Mentions 
JJ McCarthy – Michigan – Dual threat quarterback who earned the starting job after an impressive week two against Hawaii. 
Anthony Richardson – Florida – Electric pro prospect for the Gators who dominated week one versus Utah, but struggled week two against Kentucky. 
Hendon Hooker – Tennessee – Senior who performed well in his first two games and lifted the Volunteers to a win over #17 ranked Pittsburgh on the road. 
I hope you enjoyed the first two weeks of the football season and I hope you leave this article enlightened with football knowledge that you can drop on your family and friends throughout the season. Enjoy four straight months of the beautiful game, College Football!