What Does Life after Kenneth Walker III Look Like for the Spartans?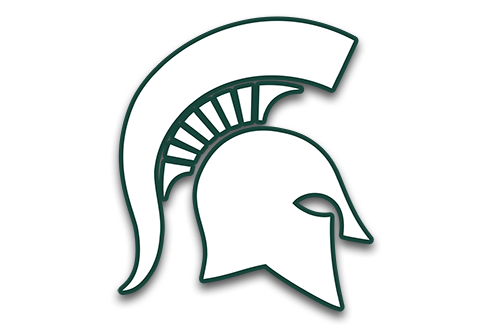 Kenneth Walker III. Everyone knows the name. He came in sixth in Heisman voting after leading the Michigan State Spartans to an unexpected 11-2 season. He led the nation in rushing among Power 5 schools and he was top ten in rushing touchdowns. These achievements led him to win the Walter Camp award as the player of the year in college football. However, the Kenneth 
Walker era at Michigan State is over. He left for the draft, and Michigan State is left reeling, looking for his replacement. The question is, who? The Spartans have a few options, and a little more clarity was given after the 35-13 win over Western Michigan.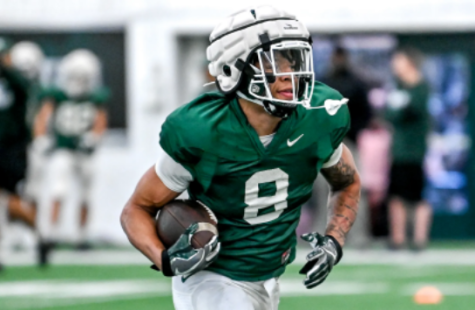 Jalen Berger: 
In an impressive debut, the Wisconsin transfer, Berger, recorded 16 touches for 120 yards, including a trip to the end zone. He led the team in rushing yards and touches in the win over Western Michigan, and seemed to be the apparent starting running back. Berger looked sharp, hitting the holes that were given to him and running hard. After the win, Head Coach Mel Tucker had this to say about the performance: "He runs hard, he's got good vision, he usually falls forward on contact. He gets out there, and he makes some plays." Berger has big shoes to fill if he hopes to continue being the starting running back for Tucker and his team, but if the Western game was any indication, he is well on his way to having a great career at Michigan State.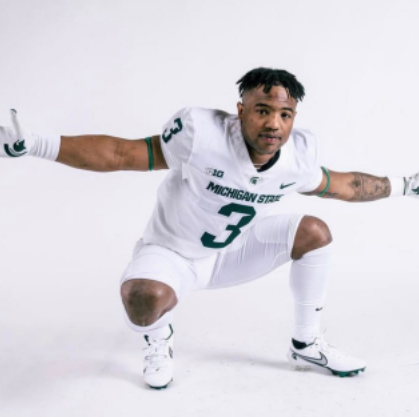 Jarek Broussard: 
Even as the apparent second-string running back, Broussard had a good game against Western Michigan too. He was given 10 carries on 54 yards, and looked eerily similar to Kenneth Walker doing it. First of all, Broussard and Walker were both transfers from underperforming schools looking for opportunities on the biggest stage. Also, both Broussard and Walker come in a little undersized at running back, around 5'11" or below, but they are both built like balls of muscle, and Broussard shares similar legs to those trademarked with Kenneth Walker. However, Broussard can only dream of having a season similar to Walker's fabulous 2021 campaign. Michigan State running back coach Effrem Reed can see some of the similarities when comparing the two. However, Broussard was not so fast to accept the comparison saying, "Kenneth Walker is a hell of a player, so that's a good company to have your name around. But Kenneth, he's one of a kind." Broussard will hope to continue to receive carries and make the most with them as he fights for the starting role and hopefully recreates some of Kenneth Walker's magic.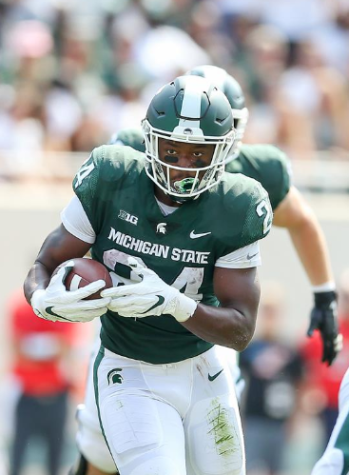 Elijah Collins: 
U of D Jesuit's very own is competing for carries in a loaded running backs room. Collins is coming off a disappointing junior season in which he battled with Covid and never regained the flashes that he showed as a freshman. In that freshman year, Collins led the team in rushing and made the All-Big Ten Third Team. Unfortunately, he has never quite returned to this level, and this year may be his last chance to shine. However, it's going to be hard for him to crack the lineup. Against Western Michigan, Collins did not receive a single carry. This comes just three years after Collins' breakout 192-yard game against Western Michigan. The question for him is if he can find his younger self. If not, then his career will ultimately become one of Michigan State's past. 
Jordan Simmons: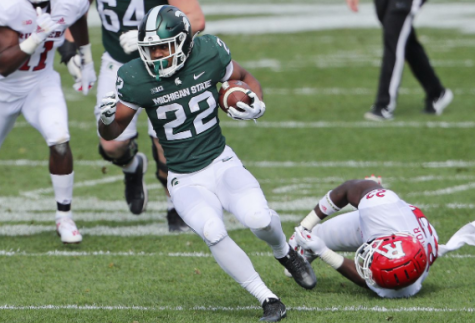 The last running back competing seriously for carries this season is junior Jordan Simmons. Simmons has been hanging around in the Michigan State running backs room as a seemingly stuck third-string running back. He has never been able to quite break through. Simmons had an exciting Freshman year in which he showed flashes as a hard-running, downhill, one-cut back. He didn't really build on this at all in his sophomore year though, and when he got the chances, he really didn't do anything with them. Simmons will try to escape mediocrity and receive some carries this coming season, but it doesn't look promising, considering he, like Collins, didn't record a carry against Western Michigan. If Simmons doesn't start making the most out of his opportunities, then he may be due for a change of scenery. 
Overall, It would be wishful thinking to think that an impact similar to Kenneth Walker's 2021 season could be recreated. However, the Spartan's running back room is loaded with talent, and has more depth than it did a year ago. Coach Mel Tucker will have plenty of options when it comes to who he wants as his feature back. Only time will tell as to how good this group will be, as everyone close to this Spartans team is quite optimistic about their upcoming season.