Washed Up? Or a Fresh Start?
Baker Mayfield begins the 2022 NFL Season as a Carolina Panther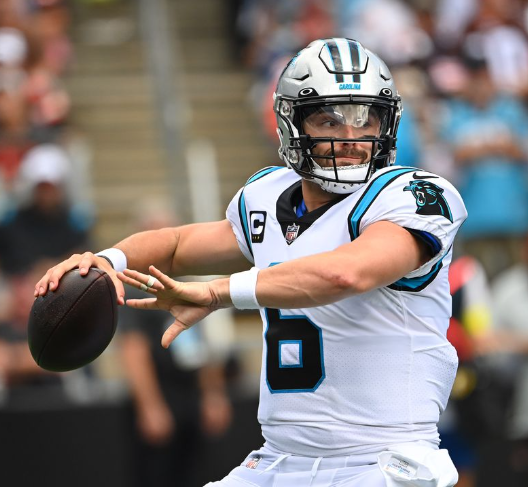 Newly-added and highly determined Carolina Panthers starting quarterback Baker Mayfield has had himself a fairly rough start to his NFL career. The former Browns QB went through it all in Cleveland, playing months through brutal injuries and leading them to their first playoff appearance in 18 seasons, all just to be doubted and traded for a trivial draft pick. Now, with a chip on his shoulder, Mayfield  has a chance this season in Carolina to prove why he should keep his job as a starting quarterback in this league for years to come. 
Drafted first overall to the Cleveland Browns in 2018, the former Heisman trophy winner knows what it is like to be depended on. He was brought in by a Cleveland organization that had been shuffling QB's throughout the decade and had not won in 19 games. In his first game as starter, Baker ended that losing streak, afterwards stating that "Cleveland deserves a win, but we're not done yet." Mayfield sure wasn't done, as he went on to break the rookie passing touchdown record, and led the Browns to a 7-8-1 record, the best record they had since 2007. It took him only two more seasons to lead them to the playoffs in 2020, finally bringing some joy to Cleveland fans. Baker was unfortunately riddled with injuries in 2021, but still managed to play through the whole season. Despite his evident leadership and grit that season, the Cleveland Browns traded Mayfield to the Carolina Panthers for just a 2024 5th-round pick, an insignificant return. This trade return should be on Baker's mind all season after all he did for the Browns, as he is now healthy, hungry, and more ready than ever to make his mark in the league.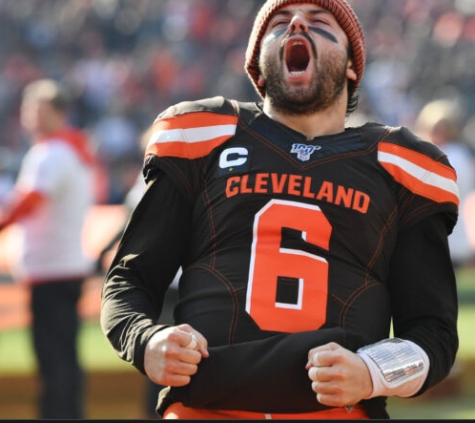 After surviving as Cleveland's QB for 4 seasons – a feat accomplished by only him this century – Baker Mayfield is now ready to utilize his new weapons in Carolina, which should make his job a lot easier. He recently said, "I feel great about this team. I feel great about the weapons we have at the skill positions." Obviously, starting at running back is Chrsitian McCafferey, a consensus top 3 running back in football, who has been a threat since his first snap in the league. Unlike Nick Chubb, Baker's old starting running back, McCaffrey is not only a threat in the run game, but also in the passing game. Having a versatile guy like Christian, who is known for making big plays, will take a lot of weight off of Baker's shoulders this season. Another guy who Mayfield could really benefit from is wide receiver D.J. Moore. Coming off of his 3rd consecutive season with over 1000 receiving yards, Moore has caught passes from seven different starting QB's in his career, none of whom were very good. He said this offseason, when asked about his QB situation this upcoming season, that "quarterback is gonna be a big factor." With a proven passer like Baker throwing him the ball, Moore should be able to tap even deeper into his potential, and complement Mayfield's game very nicely. 
Although Baker has already proven he can be a successful quarterback in the league, he still has many doubters. Fellow UDJ Cub Jack Borys happens to be one of them, stating, "Listen, I think Baker is washed. Him in Carolina is just not a good fit and will not work out." Senior, Gabe Sikora followed up stating, "he doesn't have what it takes to be good in the league." While he may not be believed in by some football fans, Mayfield receives encouragement from the people around him. Backup running back D'onta Foreman said in an interview, "I think he definitely came in with a chip on his shoulder. He's got a lot to prove." Baker has a chance to silence the haters right away, as he faces his former team, the Cleveland Browns, in the season opener. Given the situation he is in and the talent on the roster, Baker Mayfield has all the tools around him to have a great bounce-back season and lead the Carolina Panthers to the playoffs.