DJ Khaled's Newest Album: God Did(n't Want This)
A review of the album and which songs to turn up and ones to turn down
DJ Khaled is one of the most polarizing figures in the music industry. His albums often read more like who's who in popular music than a regular old track list. His newest album God Did is no different. A music tycoon known for producing hits with established stars and dominating the billboard, DJ Khaled is a master of marketing if nothing else. He makes this clear in his newest album which has produced 10 songs that graced the billboard hot 100 including the 47 second intro from Drake. Big numbers and recognition on the billboard unfortunately don't guarantee good music. In this case they certainly do not.
DJ Khaled has a habit of ruining songs that had a real chance of being good with repetition and drawn out verses which he doesn't bother trimming. Perhaps it is because he relies so heavily on features and is hesitant to step into the other artists' world. A reliance that is completely unnecessary by the way. It is possible to make a great album as a producer without overloading on features. Kenny Beats did so already this year with Louie, an album I highly recommend. Speaking of good beats DJ Khaled showcases his best one on the second track of the album. The title track "GOD DID" includes an interesting beat and a great verse from Rick Ross. Unfortunately, it also includes an extra thirty seconds of Jay Z, which feels purely unnecessary. Perhaps the greatest torture on this song though, is the well excecated feature from John Legend at the end. It begs the question: "Why didn't they use him throughout the song instead of the couple bars at the end?" -Tyler Johnson '23. DJ Khaled didn't stop there though. He also includes the track "KEEP GOING" which includes several decent verses from Lil Durk, 21 Savage, and Roddy Rich respectively. Unfortunately it also includes a repetitive beat that demands the same flow from all three rappers and by the time the third feature rolls around it is unbearable. These songs were close to being good, in a way that's sadder than a completely awful song because the potential is obvious. That being said, it only gets worse from here.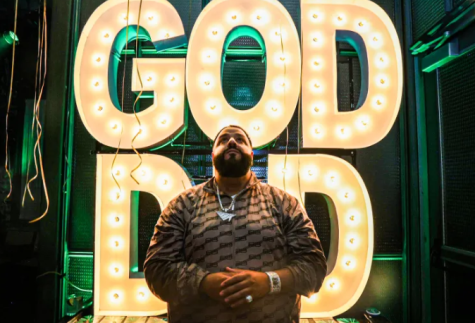 There are plenty of songs on this album that aren't worth listening to, in fact it's the majority, but there are also songs that are ludacris in general. The first is "USE THIS GOSPEL" which features Kanye West and Eminem. This song was released in 2019 on Kanye West's hip hop gospel fusion album Jesus Is King, which received mixed reviews at best. Admittedly the original release of this song was excellent. It had a feature from one of the greatest rap duos of all time in Clipse and a sultry saxophone feature from Kenny G. This re-release is bad in comparison. It has a painful feature from Eminem and anyone listening, having heard the original, would be tempted to listen to the first one. The most annoying part is DJ Khaled had no hand in the original song, essentially defeating the reasoning for its new version. Kanye himself has released songs over beats he made for other artists following the original release, but at least he made the original beat. There is also a postmortem song from Juice WRLD called "Juice WRLD DID". The entire song is Juice WRLD and it feels more like DJ Khaled flexing the fact that he has a song with the beloved SoundCloud sensation who passed away in 2019. Suffice to say there's a reason this song wasn't released while Juice was alive. The song is lyrically weak and the hook is repeated far too often because the verses themselves are short and lacking. If it weren't for the tone of Juice's voice it would be impossible to listen to.
There are a few highlights on the album. There better be with this much talent. DJ Khaled has so many connections that he often slips into different styles of production within hip hop. "THESE STREETS KNOW MY NAME" is well executed even if it isn't everyone's cup of tea. It has a beat that continually switches up and exciting features from Jamaican artists Bounty Killer, Skillibeng, Sizzla, Buju Banton, and Capleton. "IT AIN'T SAFE" is another good song. In this case he imitates the current southern rap style with hints of modern Detroit production. Nardo Whick and Kodak Black have solid features and the song glides as well as it can considering the style of production and lyrical flows that the pair of Florida rappers chose. "BEAUTIFUL" featuring Future and SZA and "BILLS PAID" featuring Latto and City Girls are probably the most palatable songs on the album. They don't do anything groundbreaking but they are solid and I wouldn't be surprised if they achieve the biggest streaming numbers in the long run. The first benefits from a smooth feature from Future and a perfect chorus from SZA. The second includes fun verses from Latto and City Girls over an upbeat soul sample from Eddie Kendricks.
Overall this album is another bloated and overdone example of the pop rap DJ Khaled is able to reproduce every single time. Of course it has its high points, because of the sheer amount of talent, but it is ultimately dragged down by the repetition, ridiculous and cringy themes, and lack of musical creativity. I am sure it will make lots of money and be heard around the US for the next six months, but it is important to separate the idea of commercial success from the essential resource that is good music. Someday I hope DJ Khaled can make this distinction.