Introducing, Mr. Hilden!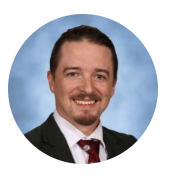 One of the "newest" staff members here at the High is Mr. Hilden, the Dean of Student Activities. While this isn't his first year here, this is his first year in this position, which was vacant after Ms. Ong, now Mrs. Schorr, stepped down to rejoin the teaching staff. Throughout the interview, Mr. Hilden consistently would talk about how much he enjoys being able to work collaboratively with others, as well as how passionate he is about hosting events at the High again this school year.
"I think the biggest difference is that as a teacher, I was really able to focus on one aspect. I had my own classroom and I could make it more like how I wanted to". Being able to control the area that he works in is something that he says isn't exactly the case anymore. "I always call it like a good chaos where there's a lot going on, a lot different people that I answer to now, a lot of people that I work with. Instead of having to take care of one grade level in one specific subject, I'm now in charge of working with six grade levels as well as our faculty, our staff, our administrators, our students' parents, and our alumni." In this new role, Mr. Hilden is excited to be able to work with a larger range of people and to be able to build relationships as he continues to show why this school's motto is "Men for Others"
In his eyes, being "Men for Others" is what makes this school, The University of Detroit Jesuit High School and Academy, what it is today. "Our students, our faculty, our staff really kinda live to that mantra that 'Man for Others'. I really like that about U of D." Whether if it's by students stepping up to help new faculty member or helping out fellow students, the fact that they're doing these things unprompted really helps to build a sense of community and that's his favorite part about being here.