Takeaways from UFC 279 PPV
The UFC is easily one of the best sports businesses in the industry. 
While the UFC doesn't get the same recognition as sports leagues like the NHL, MLB, NBA, or NFL, the UFC consistently brings amazing content to its viewers. As the COVID-19 virus swept the nation, the UFC still worked its magic. They purchased a private island in Abu Dhabi and named it Fight Island. Using this island and a UFC facility in Las Vegas, they put on fights every Saturday of every week, and hardly any of their fighters contracted the virus. They hosted UFC 249, Gaethje vs. Furgeson, which had many amazing fights, right in the middle of a global pandemic. To the current day, UFC 279 showed how quickly Dana White can think on his feet, as just a few days before the PPV was supposed to take place, Khazmat Chimaev and Kevin Holland had a backstage altercation which led to the cancellation of the pre-fight press conference. In the last minute, Dana White changed three fights. Chimaev was supposed to fight Nate Diaz, Li Jianling was supposed to fight Tony Furgeson, and Kevin Holland was supposed to fight Daniel Rodriguez. However, the card was changed to pit Chimaev against Holland, the two who got in a fight backstage. The two legends Furgeson and Diaz finally got their long-awaited and much overdue fight, and lastly, Jianling went up a weight class to fight Daniel Rodriguez. The UFC is one of the only sports businesses that would be able to pull this off. Now for the main card, starting from the first main card fight all the way to the main event of the PPV.
Johnny Walker vs. Ion Cutelaba 
Walker has only fought four times in the last three years, and heading into UFC 279, he was on a two-fight losing streak. Thiago Santos won by a unanimous decision in October of 2021, and Jamahal Hill knocked out Walker back in February of this year. Walker signed on to fight Ion "The Hulk" Cutelaba, who was submitted in his last fight. The second the fight started, the underdog, Walker, immediately grabbed control. Walker used a grappling approach to get
Cutelaba to the ground. Walker proceeded to dominate the rest of the fight on the ground, attempting three separate rear naked choke attempts until one finally got under the chin, and Cutelaba tapped out. Walker has always been a fun fighter who either gets a finish or gets finished. After getting back on track with a win, he finds himself as the #11 ranked light heavyweight. This submission was enough to land Walker a performance of the night bonus, which is always a nice paycheck to cash. This opens the window for Walker to possibly get a rematch against #6 ranked Jamahal Hill, or potentially a fight against #9 Paul Craig. It would make for another fun fight and a great main event on Fight Night. It could also be an early main card fight on another PPV sometime in 2023. 
Irene Aldana vs. Macy Chiasson 
Irene Aldana vs. Macy Chiasson was a very balanced fight the whole way. Aldana entered the octagon on a one-fight win streak, winning by TKO on UFC 264. For Chiasson, she was also on a one-fight win streak, as she won by split decision on the UFC 274 PPV. During this fight, Chiasson landed more strikes, significant strikes, and takedowns. It could easily be argued that Chiasson would've won the fight had she survived the third round. However, Irene Aldana landed a nasty liver kick that instantly ended the fight. The liver kick, or punch for that matter, is easily one of the most efficient knockout moves in mixed martial arts. When a well-executed strike lands on the liver, it instantly shuts down the opponent's body. When Aldana landed one on Chiasson, she immediately went down, and the fight was called. While Macy Chiasson fought the overall better fight, she still lost, and that is just how the UFC is. That is the beauty of mixed martial arts. You never really know who wins until it's over. Credit must be given to Aldana, as she didn't slow down or give up, and got the knockout win to show for it. Aldana's knockout earned another performance of the night bonus. The #4 ranked Aldana is now set up for a big-time fight. She could find herself fighting #3 ranked Holly Holm, or, the #1 ranked contender, Julianna Pena. Chiasson is still ranked #10, though, and could get a bounce back fight against someone like #12 Meisha Tate. 
Li Jingliang vs. Daniel Rodriguez 
This was the only fight in the entire main card that went to a decision, yet it was still an incredible fight. Daniel Rodriguez came into the fight as a favorite, with betting odds of -170. "D-Rod" was on a three-fight win streak, but hadn't fought since August of 2021. Jingliang, on the other hand, had been inconsistent. He had been on alternating wins and losses for four fights, coming into this fight off of a win. One of the main drawbacks was the fact that Jingliang had to fight up a weight class when he took this fight, yet he still fought a great fight. He was the only one to land a takedown, and he only landed 10 fewer strikes than Rodriguez. Nonetheless, Rodriguez hung on to get the win by a split decision, 29-28. Li Jingliang continues his streak of bouncing between wins and losses, and maybe now he is due to win his next fight. Jingliang can bounce back against a big-name, unranked opponent. Or, if he is lucky, maybe he can book a fight against #15 ranked, Michel Pereira. Rodriguez, on the other hand, can book a big fight. Now ranked #14, and on a four-fight win streak, Rodriguez can possibly book a Fight Night main event fight against someone like #12 ranked Michael Chiesa, or #10 ranked Vincente Luque.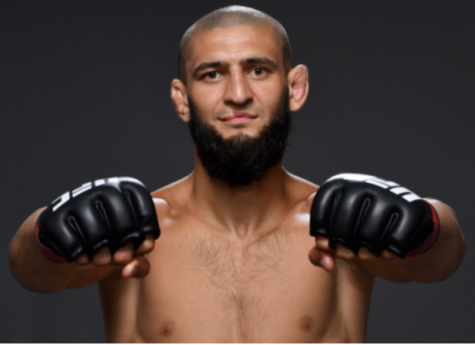 Khamzat Chimaev vs. Kevin Holland 
Chimaev came into this fight tearing the UFC apart. He joined the league back in July of 2020 and had gone 5-0 since. Leading up to this fight, he was 11-0 in his professional fighting career. Four of those five UFC wins came by either knockout or submission. Chimaev seemingly couldn't be stopped. Chimaev and Holland got into an altercation before the pre-fight press conference, leading to its cancellation. According to The Sun, Dana White apologized, saying that "this ain't gonna happen, I apologize everyone." White went on to change the fights, pitting Chimaev and Holland against each other as the new co-main event. At the ceremonial weigh-in, Chimaev came in way overweight, which caused the fight to not count towards anyone's record. However, the fight went on. The second the fight started, Chimaev took control. As the favorite, at a -560, Chimaev proved to everyone why he was so favored. He submitted Holland about halfway through the first round on his way to a dominating victory, proving why he deserves a shot at the champion, Leon Edwards. However, Chimaev may have to move up a division due to the trouble he has to make weight, meaning he might have to fight #3 ranked middleweight Marvin Vettori or #1 ranked middleweight Robert Whittaker before getting a shot at the middleweight champion, Israel Adesanya. Adesanya has dominated that division for years, and if Chimaev ever gets to fight him, it would be a crazy, fun fight. For Holland, he finds himself in a tough predicament. He proved why he isn't ranked, as he was pummel by a top-ranked contender for the title. Holland now has to build some momentum, and maybe down the line, he will get a chance to earn his spot as a ranked contender. 
Nate Diaz vs. Tony Ferguson 
This main event is the fight everyone was looking forward to. Two legends who never crossed paths in the octagon finally got to duel it out. While they weren't originally supposed to fight each other, the last-minute change in fights ended with a fight fans have always wanted to see. Nate Diaz has been a fan favorite for years. He burst onto the UFC scene with his in-ring antics, wild personality, and fun-to-watch fight style. He is a black belt in Gracie jiu jitsu (a style of jiu jitsu based off one of the best jiu jitsu masters of all time, Helio Gracie). Furthermore, Diaz tends to also stand up and box it out with many of his opponents. This flashy, action-packed style of fighting has led to many UFC fans becoming Diaz fans. Tony Ferguson is also an all-time fighter with many fans. Ferguson has been fighting forever and has gained respect from many
fans for his iron chin and his attitude of being willing to fight anyone, anywhere, whenever. These two fighters had fought in the same weight class for most of their careers. But, due to Diaz having many issues with his contract, Diaz hadn't fought in the octagon for years. However, this PPV finally gave the fighters a chance to duke it out. The fight instantly started off fun. The two exchanged blows for the first two rounds, back and forth. Ferguson utilized leg kicks, while Diaz focused more on counter punches, and breaking down Tony's iron chin. By the third round, Ferguson had crippled Diaz's leg, and Diaz was clearly in a large amount of pain. In one of the weirder events witnessed in the octagon, Diaz took a mid-fight break. He leaned against the cage, and avoided any interaction with Ferguson for almost a minute. Only a couple of minutes later, Diaz took the fight to the ground. The Gracie black belt immediately started to dominate the fight, ending the fight moments later and submitting Ferguson. While it is unlikely Diaz will be back in the octagon anytime soon, fans will never forget the legendary stint Diaz had in the UFC, if he never comes back. As for Ferguson, he simply needs to retire. He has lost a lot of fights, has no chance at the title, is getting older, and is just a shell of his former self. Ferguson wants to keep fighting, as that is just his personality, but he clearly is going to ruin his body by continuing to fight in the octagon. 
This PPV was one for the ages. UFC 279 offered a lot more than just the main card, but that main card is where a chunk of the action was located. Legends finally going at it, some dominant fighters continuing their win streaks, and others making grand returns to the octagon. There were lots of finishes, mostly by submission, which always makes for a fun card to watch. It was a great card that many fans will remember for a long time. Now, fans look forward to UFC 280 on October 22, which is loaded with talent and a title fight.