Golf: Re-Envisioned, Not Destroyed
Coming off a successful weekend at The International in Boston, LIV Golf is solidifying its spot among elite golf tours and could perhaps dethrone the long-standing PGA Tour. Some of the  pressing questions that need to be answered are what is LIV golf, why is it controversial, and what enhancements can it bring to the sport?
What is LIV Golf?
The Crown Prince of Saudi Arabia, Mohammed bin Salman, has supported the LIV Tour series via his Public Investment Fund (PIF). The event was formed as a challenger to the existing PGA Tour. Although the tour was foreign, it instantly caught traction due to the lucrative prize pools and 9-figure golf contracts offered to big-name golfers such as Dustin Johnson, Cam Smith, Phil Mickelson, Bryson DeChambou, and Brooks Koepka.  
Although the official season has yet to start, the series is supposed to feature 14 mandatory events, in contrast to the 48 events players are able to choose from on the PGA Tour. Each event flaunts a $25 million dollar prize pool, with $20 million going to individuals and the other $5 million being contributed to the best team performance.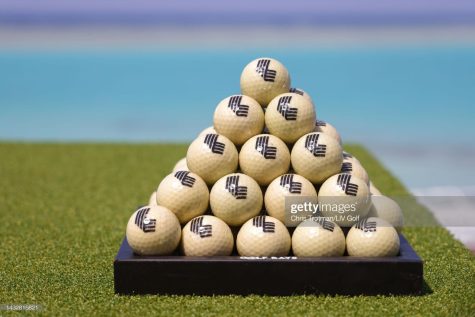 Why is it so controversial? 
Golf traditionalists are outraged by the Saudi's new approach to golf, characterized as "golf, but louder." The Saudi approach to golf is fundamentally different from the format of the PGA Tour for reasons such as total rounds, start times, and team play. 
Instead of the traditional four-round schedule with a cut made after the second round, LIV plays three rounds excluding cuts. In place of a staggered tee sheet, LIV uses a shotgun start meaning all players start at the same time on different holes. Team play has also come as a nice surprise to the common viewer. Teamplay consists of 12 captains each of which picks three new teammates every week. As the official LIV website puts it, "Over the first two rounds, the best two stroke play scores will count for each team. For the third and final round, the best three scores will count, with the lowest overall team score after 54 holes being named the team winner."
LIV has also made some noise on the political spectrum through connections with Donald Trump and questions being raised pertaining to the financial backing. After recently hosting a LIV event at Trump International Golf Club, Donald Trump was many times feeling like the star of the show. LIV also already has another Trump course on their schedule with more bound to come. 
As stated previously, LIV is financially backed by the crown prince of Saudi Arabia which initially created controversy, but Norman has insisted that he "does not answer to Saudi Arabia" and that they are not "his bosses."
With this being said, there are still questions concerning the ethical background of the money with some people going as far as to name it "blood money." In a video produced by the organization 9/11 Justice INC., family members of 9/11 survivors shared their thoughts on the golfers saying, "I'm never gonna forget, never gonna forgive these golfers for taking this blood money."
While many are outraged, there are a handful of people who believe that the LIV Golf series is a good opportunity for the Saudi's to rebuild their reputation.
The changes such as total rounds, start times, and team play are refreshers from the customary format of golf tournaments. In an effort to create a more intense, high-pressure environment LIV is grabbing the attention of new viewers. LIV's strategy of bringing new eyes to golf is especially catered towards the younger generations as it live streams its events on the social media platform YouTube. By drawing in younger viewers, LIV is strengthening and continuing the sports deep rooted legacy. LIV's new golf series is here to re-envision golf instead of destroying it, and is a plus for the current golf viewer and the future viewers to come.