After going 7-8-2 in the regular season, the University of Detroit Jesuit Varsity Soccer Team headed into the playoffs on a clean slate. They were determined to not let their record define them and have a shot at winning a state championship.  
The Cubs varsity soccer season started out on a high note with a solid 1-0 win over Greenhills high school. The first game of the season was nerve-racking because it was the first time the team could play together. They lost a lot of Seniors from the previous year but added plenty of new, young faces to the team, ready to make an impact. Even though they only scored one goal, the team was thrilled to pick up a win in a defensive showdown.  
The Cubs then went through a rough three-game losing streak. The streak though, only fueled them to get better and led to an impress
ive five wins and one tie in their next six games including their first league win against rival De La Salle. Varsity Soccer player Victor Smith said, "It was a close game for us, but we left the field confident and ready for our next challenge."  
Later in the season, scoring became a problem for the Cubs when they went on a three-game losing streak where they were only able to score one goal. Even though they were tough losses, the Cubs got back on track, and outscored Toledo St. Francis and Dearborn High school 8-2. The Cubs later beat St. Johns to become 3-1 in the Catholic League.  
Unfortunately, the Cubs were unable to close out the regular season with on a high note, losing their last home game to Brother Rice and an away game at Catholic Central. Even though the Cubs faced some tough losses, they had impressive wins and showed that they can hang with anybody when playing their best.  
In the playoffs, the Cubs came ready to play. Victor Smith stated, "Heading into the playoffs, we weren't ready to lose and were expecting to win Districts." For the first time in 10 years, the Cubs defeated Dearborn Fordson and Grosse Point South to win the district Championship.  
Next up was the Regional Championship. Smith made the comment, "The playoff environment is crazy and any team that comes to play can beat the best team in the state." The Cubs were ready to play and beat Dearborn Edsel Ford in the Semifinal. Unfortunately, their season ended with a loss to Northville in the Regional Final 3-1.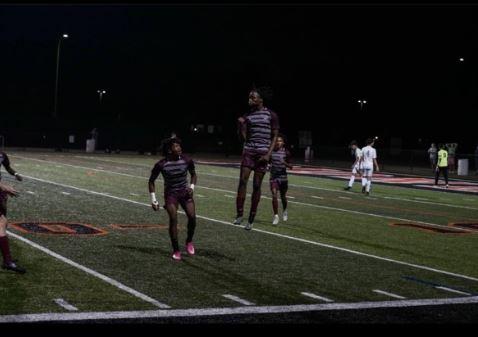 Even though it has been an up-and-down season, the young team has shown promise led by Senior Captain Myles Purty who enjoyed every minute of his final season. Myles' leadership was shown through each practice as he pushed every member of the team to get better. One of his favorite parts was winning the district championship. Myles said, "Going into the playoffs we have a clean slate. Now we are 0-0-0. From here on out, none of our past games matter. What does matter is the game we have in front of us." Myles is confident in the future of the Cubs Soccer program and is excited to see growth from all players as they get older, become more experienced, and improve their skills. One of these players is Camden Arndt. Camden was an excellent defender who played very consistently and prevented opposing teams from scoring on many occasions. Camden said, "My goals were to win the Catholic League and State Championship but sadly, I was not able to accomplish either. We were able to make a long run in the playoffs though." Next year, Camden will return as a Senior with these same goals of winning championships and is looking to lead the team as a Captain too.  
The Cub's 2023- 2024 soccer team was one for the ages and will be remembered. They were able to capitalize on scoring opportunities, something they had struggled with in previous years and had lots of success. They had great chemistry, loved playing with each other, and felt like they could play with anyone. Next year, the Seniors will be gone but there will be young players ready to step up. The young core next year will look to build upon their success this year to create a dominant soccer culture at U of D Jesuit.