2020 Tigers Season Review
Dominic Lucido '21, Editor
October 26, 2020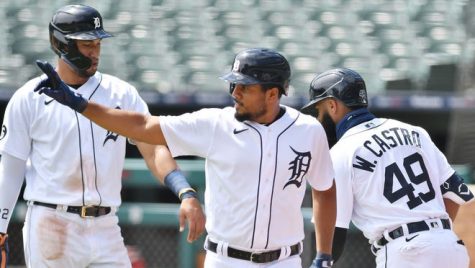 After wasting a promising start to the 60-game COVID season, the Detroit Tigers did not disappoint in fulfilling preseason prophecies which ranked them among the worst teams in baseball. They finished 23-35 which equalled last in the AL Central. The Tigers' struggles, however, should not distract fans from the potential of some of the young players who proved to be the focus of a failed season.
One such player is Willi Castro. Castro batted a team-high .349 with a near unprecedented .932 on-base-plus-slugging percentage. The 23 year old Puerto Rican has shown talent at the plate and in the field at shortstop. Jeimer Candelario had 29 runs batted in, coming in second behind only Miguel Cabrera. Candy slugged .297 with 55 hits and 7 homers in a season that was shortened by over 60 percent.
The Tigers do not possess only great young hitters and fielders; they also have pitchers who have promising futures. Casey Mize, the former 2018 first overall draft pick made his MLB  debut in August against the White Sox. Mize struck out seven batters and did not allow a walk in four-and-one-thirds innings. Mize impressed the MLB community with amazing off-speed pitches, along with a fastball that has great movement. Another pitching prospect who showed promise was Tarik Skubal. After rising up the farm system, he got pulled up this year and truly hit his stride in the back end of the season. The lanky lefty showed off a fastball that touches 98 and a very dynamic array of off-speed pitches. The future of the Tiger's rotation is certainly bright.
It is apparent that the Tigers do need new coaching after Gardenhire left with only a handful of games remaining due to health concerns, but they also need a new GM. Al Avila is the sitting general manager, but many feel that he needs to go. After a series of lost trades  it is apparent that he is not the man capable of bringing us back to a World Series appearance.
The Tigers have work to do to become a feared franchise again. Hopefully, under the right direction, young players will flourish, and gel with veterans to have a semi-productive 2021 season.