Sour: Olivia Rodrigo's Copyright Battle
Olivia Rodrigo's debut album, Sour, shot to the top of the Billboard charts upon its release last May, while also breaking many streaming records. The album's anticipation was high especially after the release of her massively successful singles "Good 4 U" and "Drivers License".  Yet with all of the attention, the Disney star has recently been plagued with a slew of copyright claims. Her songs "Good 4 U" and "Brutal" received many public comparisons to the band, Paramore. Although Rodrigo has stated in multiple interviews that she was inspired by the band, amongst other artists such as Lorde and Taylor Swift, that still has not stopped her from having to give up over $1.2 million in royalties for her music. All of this discussion about copyright infringement has caused many to ask what the line between drawing inspiration and stealing is.
Beyond her music, Rodrigo has also faced accusations of stealing aesthetic and promotional photos from other bands. Singer-songwriter Courtney Love recently took to Twitter after the release of Rodrigo's "Sour Prom" concert. She posted a picture of Rodrigo's promotional photos captioning the post, "Spot the Difference! #twinning!" The pictures of Olivia holding flowers, with tears streaming down her face, and a homecoming queen crown on her head resemble the promotional photos of Hole's album Live Through This. Love's comments were first perceived as endearing comments supporting Rodrigo, yet Love quickly dismantled this idea when she took to Facebook to vent her frustrations. Love stated "it was rude of her, and [Rodrigo's label] Geffen not to ask myself or ["Live Through This" photographer] Ellen Von Unwerth," she wrote. "It's happened my whole career so I d c. But manners is manners!"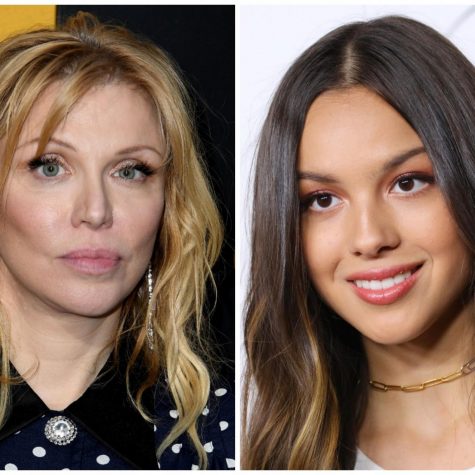 Other Artists like Adam Levine have commented on Rodrigo's plagiarizing accusations and the current state of the industry. The Maroon 5 singer stated on his Instagram story, "Look, these are tricky things, and anyone who's ever written a song knows that sometimes you rip something off inadvertently, and it makes it to tape, and then it gets released, and then there's a lawsuit." He went on to say, "It's a natural thing for it to happen, and sometimes it gets ugly, and sometimes it's warranted that people take legal action. Sometimes it's not warranted that people take legal action, and … the gray area has reared its ugly head these days." Levine finished by stating how he wishes music could be more about the art and less about calling out other musicians, especially new musicians.
The mania surrounding Rodrigo's album and copyright has not hurt her very severely. Her album still remains at number 3 on the Spotify streaming charts and number 1 on the Billboard 200 chart. Her song "Good 4 U" also remains at number 3 on the Hot 100 chart. Though she still faces questioning on her artistry, Rodrigo has one of the best debuts in history and will definitely continue to reign as the future of pop music.