Your Mental Health – More Than Just A Club
As this new academic year finally begins, Cubs around the school are preparing to spring into another great year at the High. Cubs around the High are ready for a year filled with more friends, activities, sporting events, and an overall greater connection between students. Following a challenging year filled with disconnect and restrictions, we are all now ready to experience everything the High has to offer. Though many things do look different this year, one major aspect remains constant: BeNice. 
BeNice, led by founder Christy Buck, was founded in 2011 to combat bullying and the effects it had on one's mental health. The Mental Health Foundation of West Michigan's new program BeNice has a vision to be "the best source for proactive mental health and suicide prevention education to improve and save lives" (BeNice.org). Since its launch, BeNice has spread to schools across Michigan and numerous workplaces as a way to destroy the stigma surrounding mental health. The way they have executed an incredible program to destroy the stigma is through a four-step plan. Their action plan is to notice, invite, challenge, and empower. Each of these four steps provides a person the necessary resources to make a difference in the lives of those around them. You can even get trained online and take the pledge to follow the BeNice action plan by simply following this LINK.
This new program is an incredibly powerful resource at any school but has found a significant impact at U of D. We have struggled over the past several years with confronting our own mental health but this program has truly found a way to resonate with students. When asking Chris Mutebi '22 about mental health and BeNice at school, he stated, "Going to an all-boys school can be especially hard for some because they have to try and live up to that tough masculine stigma every day amongst their peers." Society presents a challenging environment where men are expected to be tough and deal with struggle on their own, but this is not what BeNice seeks to do. The program hopes to crush this idea. Chris further says that "BeNice has helped the school by just being a place to talk for anyone and showing that it's ok to open up." Students should be able to open up about what they are dealing with in their lives and BeNice provides this opportunity to open up, and if not that, just to talk.
BeNice has had such a deep impact at U of D through its impact in the student body and sport programs that it even garnered national attention. A group of four athletes at the school, Josiah Graddick '22, Caleb Knuth '23, Chris Mutebi '22, and Patrick McVeigh '22, were interviewed by Kate Snow from the Today Show to understand the importance of mental health in this current time.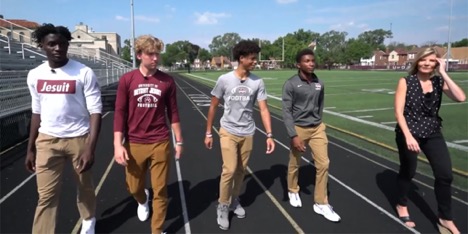 Just a few words these cubs used to address this past year due to COVID included, "stressful, tedious, eventful, and difficult." Clearly, this past year has been considerably challenging, due to separation from our friends and losing out on many of the time honored traditions at the High. With athletes being hit particularly hard, as shown through these four interviewed students, the BeNice organization at U of D is looking to make significant impacts in the lives of athletes. The leadership team for BeNice at U of D has made it part of their mission to educate coaches and athletes about the core tenets of the BeNice program. They hope to educate all members of the athletic program about the power of noticing, inviting, challenging, and empowering to not only break the stigma of mental health on teams but throughout the whole school. 
The BeNice leadership team, headed by Andres Borrego and Josh Dorsey, have been working tirelessly over the summer preparing to impact athletics and the rest of the school. They have been preparing numerous great events and opportunities for this year. These events include mental health weeks, mental health public service announcements, giveaways, mental health talks, and even pep rallies to continue a conversation about mental health in the school. This will teach students around the school the best way to positively impact the mental health of the cub community: following the BeNice action plan. Until these events finally occur, remember to reach out and support your fellow Cubs by being nice.