NBA Finals Review
Anthony Zuliani '21, Contributor
October 26, 2020
The NBA Finals are finally over. TheLos Angeles Lakers, led by LeBron James and Anthony Davis, capture the Lakers 17th NBA Championship after a eight- year playoff drought.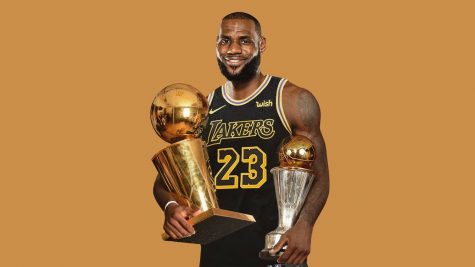 The Lakers defeated Jimmy Butler and theMiami Heat in a 6 game battle. This is James' 4th Finals win in 10 appearances and Anthony Davis' first win in his only Finals appearance.
In the crucial game 6 of The Finals, the Lakers ended the Heat's journey after winning 106-93. James shot 13-20 from the field, recording 28 points, 10 assists and 14 rebounds.This was James 28th triple-double in the playoffs, which is 2nd most all-time, only 2 behind a Laker's legend, MagicJohnson.
The most important takeaway from the Lakers game 6 win was their defense, and how they were able to clog the paint and lock down the perimeter. The Heat only shot 44% from the field and 36% from 3-point land which is 6% less than what they have been shooting beyond the arc throughout the playoffs. The Heat looked lazy and sluggish, finishing the game with 13 turnovers.
For the Heat, they weren't even favored to make it out of the 2nd round, but they proved the doubters wrong. They beat the Milwaukee Bucks in five games and the Boston Celtics in six. Both of those teams were highly favored to make it out of the East and also to go all the way. 
James and Davis were able to live up to the hype though, and they accomplished their goal that they made clear since the start of the season, tie the Celtics record for championships and get LeBron his 4th ring. 
It is unsure what is going to transpire next season due to COVID-19, but the bubble was very effective and that could be a possible option for next season if cases continue to rise. The NBA's Commissioner Adam Silver might look at this next season with caution, but as more sports start to hold fans in their stands, the NBA could follow suit next year. But, as this year taught us, anything can happen.