XC Wrap Up
Despite Coronavirus complications, the UDJ Cross Country team worked hard this fall to get faster and stronger. The team warmed up and stretched in masks, and they even ran their first meet in masks too. With many of the bigger invitational meets getting cancelled this year, the team still had an exceptional season. The team finished the season with three wins and two losses. This is the best the team has done in a while. It's worth noting that one of their three wins was against De La Salle, a team that has proved to be a formidable opponent to the Cubs in recent years.
Later in the season, the JV Cross Country team ran in a non-regional qualifier at Nankin Mills Nature Center. JV took a whopping first place out of eight teams. Leading the Cubs in this race was junior Owen Gardella with a time of 18:12. Meanwhile, varsity prepared for regionals. The varsity team ran in pre-regionals at Novi High School where six UDJ runners qualified for the next stage. The team finished their season off strong at regionals, with Junior Alec Koscielniak leading the team with an outstanding time of 16:45!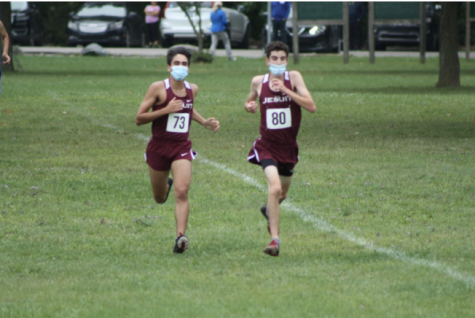 The team's future looks bright with not only talented upperclassmen, but also promising underclassmen. Some young names to look out for in the coming years are Owen Dorweiler '23 and Alvin Stanton '24. When asked about the future of the team, Alec Koscielniak '22 said, "We shattered expectations this year and we are only getting better. The team roster was spectacular this year and it's looking even better for next year. Big things to come." Overall, the UDJ Cross Country team had one of their best seasons yet. This team will definitely be a force to reckon with next year!